>
>
Two-way warning – Why it's so important to warn both operator and pedestrian of collision risk.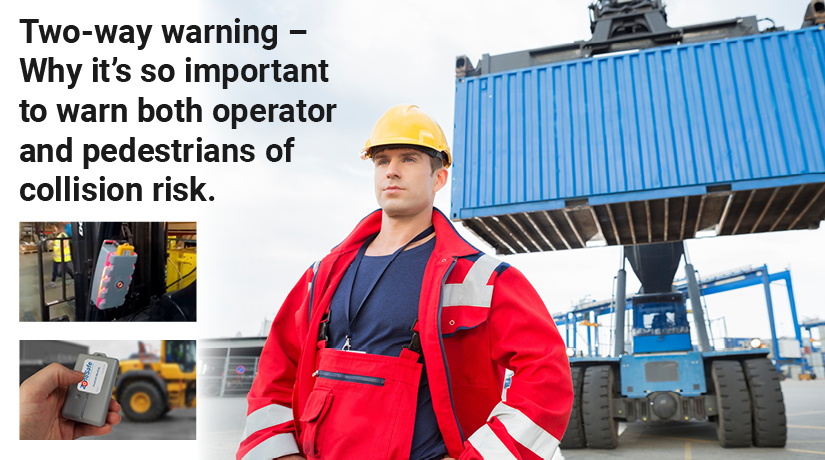 Two-way warning – Why it's so important to warn both operator and pedestrian of collision risk.
Proximity warning systems with two-way warning offer industrial businesses an effective way to proactively address pedestrian/vehicle collision risk and minimise the opportunity for accidents. With the safety of all personnel a key consideration, the popularity of safety technology has grown, but when it comes to anti-collision devices and technology, not all solutions are created equal. 
Anti-collision safety technology is widely available, with each solution offering an innovative approach that is proven to reduce the opportunity for accidents. When looking for a proximity warning solution, the options can be confusing, but it's important to note that while ZoneSafe's tag-based systems incorporate a two-way warning, where both the operator and the pedestrian receive an alert, some other systems only alert the vehicle operator. This must be a key consideration when selecting the best solution for your site. 
Two-way vs one way
Pedestrian/vehicle collisions are all too common, regularly resulting in life-changing and fatal accidents, and having a detrimental effect on businesses and people. The HSE recommends full segregation of vehicles and pedestrians where possible to minimise the risk, but of course, this isn't possible in every situation. 
Safety technology makes segregation easier to achieve as technology has the power to communicate danger to workers without physical separation. This can be achieved using ZoneSafe Proximity Warning Systems, artificial intelligence, GPS or a vision-based device that is programmed to react when specified parameters are breached. Every worksite is different, and each system has features and benefits that could make that option the best one for your workplace challenges. 
One way warning 
Some systems including those that utilise Artificial intelligence (AI) or cameras, provide a one-way alert. When AI is used, sensors and image processing helps to differentiate between people and obstacles in the area and alert the driver to hazards.  These systems are certainly effective in raising the driver's situational awareness, allowing them to stop their activity and avoid a collision, but it's important to note that pedestrians are not alerted to danger.  
One-way systems place the onus on the driver to prevent the accident. This leaves some margin for error as the driver can't predict what the pedestrian is going to do, particularly as the pedestrian may be completely unaware of the impending risk.  
Workplace complacency can be a real problem as exposure to risk becomes part of the daily routine and it's important to note that pedestrians are just as susceptible to complacency as drivers. Cutting corners on defined walkways or entering operational areas where vehicles are manoeuvring, might seem like a minor breach but a catastrophic accident can happen in seconds. If a pedestrian walks out in front of a forklift and only the driver is alerted, the responsibility to stop a collision is on the driver. If the pedestrian was also alerted to the presence of the forklift, it is more likely the accident could be avoided. 
Two-way warning 
The two-way alert system is fitted to vehicles and pedestrians in the area wears proximity tags which communicate between the two when a defined detection zone is breached. An audio/visual and vibration is provided to the pedestrian via the proximity tag to highlight the danger and allow operators and workers to stop their actions before an accident takes place. 
The two-way system takes a more holistic approach, ensuring everyone is alerted to hazards and given sufficient time to stop their activity and raise awareness. When a two-way system is installed, everyone in the area is tagged and empowered with a shared responsibility for the overall safety of the environment.  
How is ZoneSafe different?
ZoneSafe uses RFID technology to identify pedestrians and obstacles when a defined detection zone is breached, allowing users to 'see' around corners and in areas with limited visibility such as blind spots It is easily installed on any vehicle while people working in the area wear a lightweight tag which forms part of their everyday PPE.
The two-way warning system is designed to provide alerts to both the operator and the pedestrian ensuring maximum safety in high-risk areas. This two-way approach makes the ZoneSafe tag-based system stand out from many other solutions such as camera and AI-based systems that only alert the driver. Feedback is delivered to both parties, an alert from the in-cab control unit for the driver, and a physical alert from the tag worn by pedestrian workers, creating an additional layer of security. 
The system is highly flexible and lends itself to many safety-critical situations including blind spots, crossings, asset protection, ingress/egress and more. If tags cannot be worn, the technology can be used to deliver warnings in a variety of other ways such as flashing lights, automatic illuminating signage and floor projection.  
All solutions are designed to grab the attention of both operators and pedestrians so that everyone can play a part in accident prevention. ZoneSafe can even communicate directly with barriers and gates, automatically closing on approach, and in addition, integrated to slow vehicles* in high-risk areas. 
Each product within the ZoneSafe suite can be installed as a standalone system to address specific key areas of concern or combined to create a comprehensive site-wide solution. ZoneSafe provides the maximum level of safety in high-risk workplaces and can be tailored to your needs. 
The ultimate goal when investing in any safety technology is to improve safety and reduce the chance of accidents taking place. Worksites have common safety concerns, but each site is individual so it's important to find the right fit for your business.  
As safety tech evolves and more products become available, it can be difficult to decide which system is the best option but deciding on a one way or two-way warning system is a good starting point.  
*Integration with OEM creep mode or 3rd party slow down system required. 
Contact ZoneSafe to discuss your workplace safety concerns: 
Call Us: +44 (0)1202 868000
Email Us: sales@zonesafe.com