>
>
A Complete Guide to Proximity Warning Systems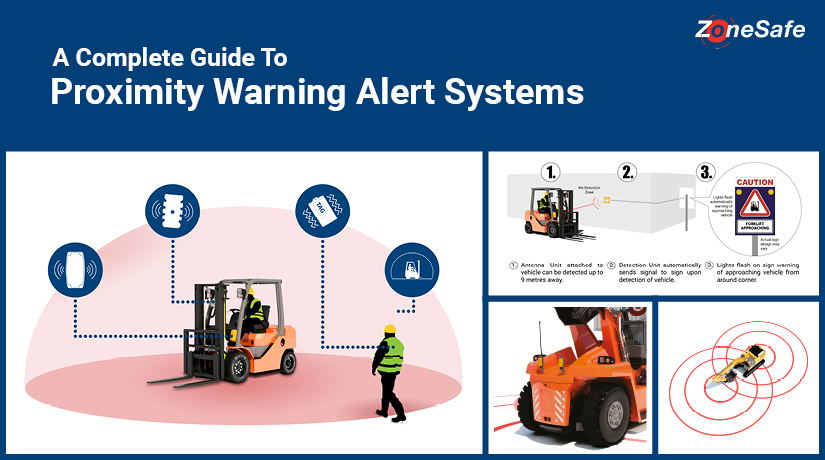 A Complete Guide to Proximity Warning Systems
Proximity warning alert systems are commonly used in high-risk industrial operations, to alert people to hazards. Hazards take many forms, but a proximity warning alert system is most often used in areas where people and vehicles work in close proximity, with the goal being to reduce the opportunity for collision between the two.
The ZoneSafe system uses Radio frequency identification (RFID) technology to create an adjustable 360-degree detection zone around hazards. When the detection zone is breached by a pedestrian or another vehicle, an audio/visual or vibrating alarm alerts vehicle operators and people to the presence of risk. This alert enables all parties to stop their activity and avoid collisions.
Ensuring pedestrians and vehicles have safe use of traffic routes in the workplace is a legal requirement but is often difficult to achieve. Employers must have measures in place that create safe passage for both pedestrians and vehicles – this can be achieved by marking routes with safety cones, floor tape, and signage, but the addition of a proximity warning system enhances this separation and creates much more effective segregation.
Why is a Proximity Warning System important? 
In high-risk sectors, manual handling equipment and heavy machinery, including forklift trucks, shovel loaders, telehandlers, HGVs and excavators, play a vital role, however, these types of equipment have the potential to cause severe and even fatal accidents when proper safety precautions aren't taken around their use. Forklifts alone are estimated to be involved in around a quarter of all workplace transport accidents (hse.gov.uk), so it's important stringent safety measures are put in place around their use.
Every year there are thousands of accidents at work reported in the UK and many of these result in serious life-changing injuries and even death. HSE figures for 2021/22 show that of the 123 fatal accidents at work reported, 23 were due to being hit by a moving vehicle.
By installing a proximity warning system, vehicle operators and pedestrians are alerted to the presence of hazards and can immediately make the crucial decision to stop their activity and prevent an accident from happening. ZoneSafe's flexible technology is easily applied to vehicles, machinery, and hazards, or in high-risk locations to dramatically improve safety.
What are the benefits of a Proximity Warning Alert System? 
Reduction in vehicle-person and vehicle-vehicle collisions
Increased situational awareness and improvement in safe working behaviour onsite
Improved overall site safety
Boost staff morale
Reduction in serious accidents and injury to employees and visitors
Reduction in damage to equipment
Avoidance of fines, compensation claims, and reputational damage
What Proximity Warning Systems are available for work site safety? 
ZoneSafe technology is easily adapted to create tailor-made solutions that address customer-specific safety challenges. This flexibility makes it possible for the ZoneSafe system to be applied to a wide range of sectors and hazards. The ZoneSafe portfolio includes but is not limited to:

Pedestrian Detection Systems 
The ZoneSafe Pedestrian Detection System is our most widely used product and provides a highly effective solution to the challenge of segregating people and vehicles. Pedestrian safety around moving vehicles is vital to keeping your workforce safe. ZoneSafe tags are assigned to personnel as part of their standard PPE, and company vehicles are equipped with an antenna that interacts with the tags to deliver an alert when the detection zone is breached.
Read about our pedestrian detection case studies

Vehicle Detection Anti-Collision Systems 
ZoneSafe Vehicle Detection Anti-Collision Systems reduce the risk of accidents between industrial vehicles. The easy-to-fit system is applied to vehicles and boasts a long-range vehicle detection radius of up to 50 metres. Two detection zones are applied – an outer pre-warning and an inner warning zone with easily identifiable alarm differentiation for each zone to ensure early detection of hazards.
Find out more about ZoneSafe vehicle detection anti-collision systems

Activated Signage
New to the ZoneSafe range, vehicles are fitted with technology that interacts directly with safety signage so that visual and audible alerts will illuminate or sound automatically as the vehicle approaches. This is also highly effective in areas where it is necessary to restrict access or reduce vehicle speed. Active signage immediately grabs the attention of workers so that they are made aware of hazards. Activated signage is available as an independent safety solution or as part of a wider site-wide system.
Learn about activated signage

Dropzone Protection
When working at height, there is a risk that falling equipment such as tools and other objects can harm people working on the ground below. The ZoneSafe Dropzone system creates a demarcation area or 'dropzone' around personnel working at height. When tagged ground personnel enter the zone, they receive an alarm that continues until they exit the zone, ensuring they are safely out of the danger area.
Learn more about Dropzone

Hazard Cone Tags
When UK airline Jet2 approached ZoneSafe to create a system that would reduce the occurrence of airport vehicles colliding with aircraft, the team quickly found a suitable solution. This is just one example of ZoneSafe technology being used in an innovative way to meet a specific customer requirement. ZoneSafe tags were applied to safety cones that were placed to create a detection zone around an aircraft. When an airport vehicle approaches the detection zone, the alarm is raised, greatly reducing the opportunity for collision.
Read the Jet2 case study
How Long Does It Take to Install a Proximity Warning System? 
ZoneSafe is highly flexible and easy to install and operate. Each installation varies, but the system can be successfully fitted in as little as 20 minutes.
Is a Proximity Warning System the right solution for my site?
All businesses have a responsibility to safeguard their people and operations. This includes protection of people and assets and of the company's financial and reputational stability. Health and safety incidents not only impact the individuals involved but can cause irreparable damage to a company's reputation and staff morale.
When people and vehicles or machinery work in close proximity, the risk is dramatically increased. The ensuing investigation following a serious or fatal accident is a highly detailed process and often results in fines and compensation claims that can run into the millions. In 2022, Dyson was fined £1.2m when a worker was struck by a 1.5-tonne machine. In the same year, parcel delivery firm Evri was fined £850,000 when a worker was killed after being crushed between two trailers Incidents like these ruin people's lives and destroy a business's ability to attract customers, staff, and investors, with some organisations never recovering.
In high-risk workplaces, the benefits of proximity warning systems are far-reaching. ZoneSafe proximity warning systems are suitable for a wide range of industrial sectors, including:
Agriculture
Waste and recycling
Warehouses
Transportation
Ports
Airports
Manufacturing
Construction
Get proximity warning detection with ZoneSafe
Maintaining a safe working environment can be challenging, and this is especially true in industrial sites where heavy machinery and equipment is commonly used in close proximity to pedestrians. ZoneSafe makes these workplaces safer by improving situational awareness and alerting everyone to the presence of risk before an accident occurs.
Get in touch to discuss your workplace safety concerns and learn how ZoneSafe can improve safety on your site.