>
Proximity Warning Systems
Need to reduce accidents and collisions on your worksite? 
ZoneSafe provides unparalleled worksite safety solutions. Our expertise lies in deploying proximity warning systems and advanced safety detection technology. No matter your vehicle type, we can seamlessly adapt our range of proximity warning systems and detection technology to fit.
We design each system to function as a standalone solution, yet they can also be combined to create comprehensive worksite safety systems. This approach helps to mitigate potential hazards, offering businesses and their employees peace of mind.
We are committed to offering customisable solutions; we design and manufacture safety systems tailored to meet your specific site requirements. Your worksite is unique, and so should be your safety strategy, taking into account the needs of your staff and site to understand potential hazards and how to effectively prevent them.
Proximity Warning Systems For Your Workplace
Enhance your employees' personnel awareness, driving behavioural change.
Diminish the risk of both vehicle-to-personnel and vehicle-to-vehicle collisions.
Supplements current safety protocols, such as the "thumbs up" procedure.
Two-way feedback for both pedestrian and vehicle operators.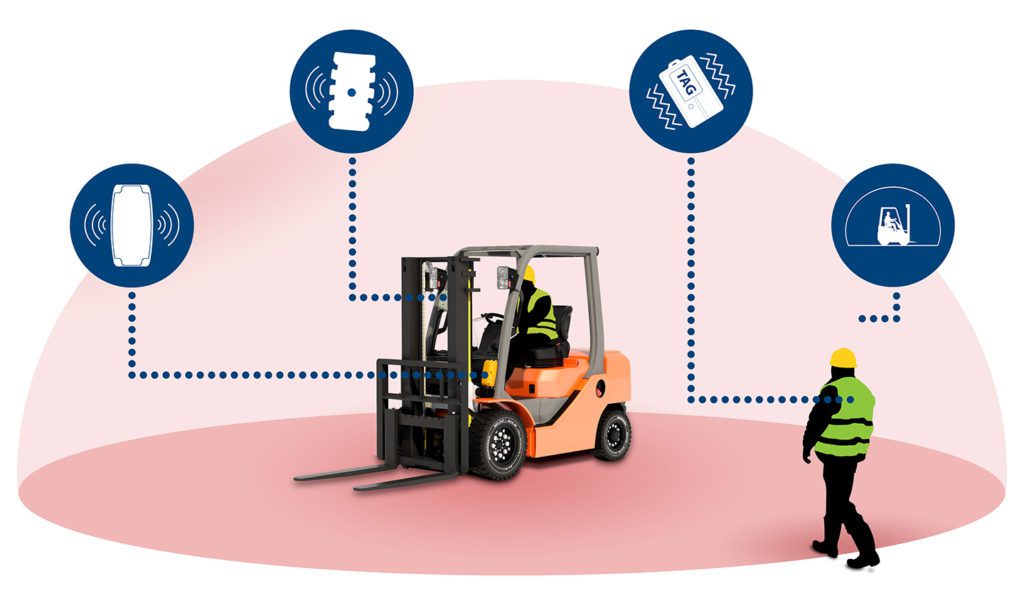 Proximity Warning Systems For Pedestrian Safety
ZoneSafe's Pedestrian Detection is our proximity warning and alert safety solution that reduces the risk of accidents between pedestrians and vehicles working near each other. Our proximity warning solutions have multiple features to benefit your worksite.
Warns vehicle operators AND pedestrian workers when they get too close to each other.

Pedestrians detection through walls, racking, and blind corners.

Complete 360-degree pedestrian detection for your vehicles.

Preset detection range up to 10 metres away from the vehicle
Vehicle To Vehicle Proximity Warning Systems
ZoneSafe's Vehicle Detection Anti-Collision System detects all other site vehicles, helping to reduce the risk of collisions, injury, damage, and inconvenient vehicle downtime. Our vehicle-to-vehicle proximity warning system delivers multiple benefits, including:
Long-range vehicle detection (up to 50 metres) allows ample time for drivers to take preventive measures.

Two configurable alarm warnings; outer pre-warning zone and inner close proximity warning zone alarms.

Each vehicle to vehicle system fits to any type of vehicle despite it's size or shape.

Audible visual alarms from the control unit warn the driver when other vehicles are detected.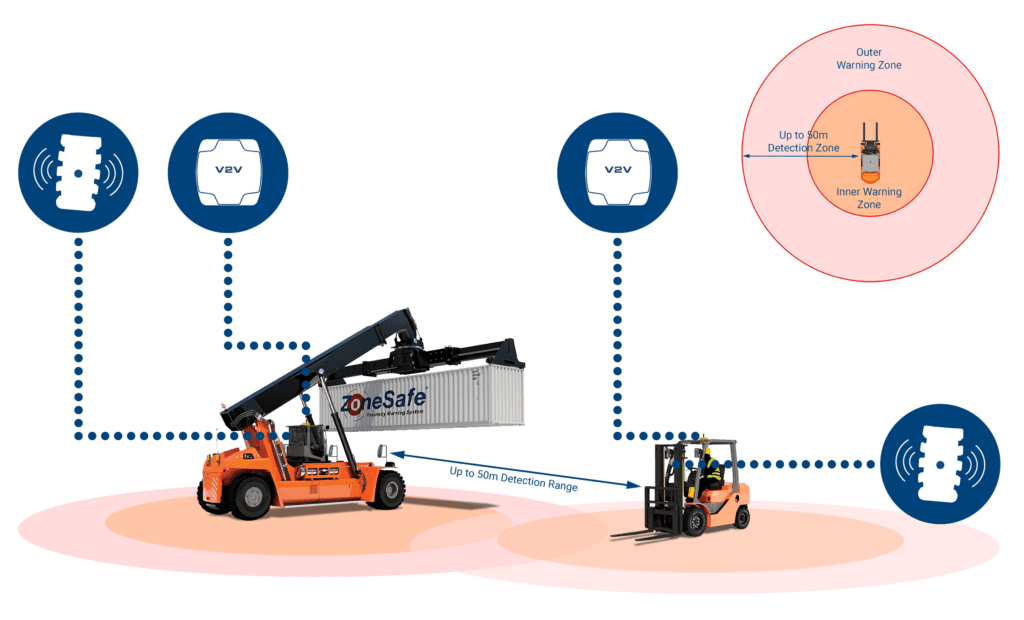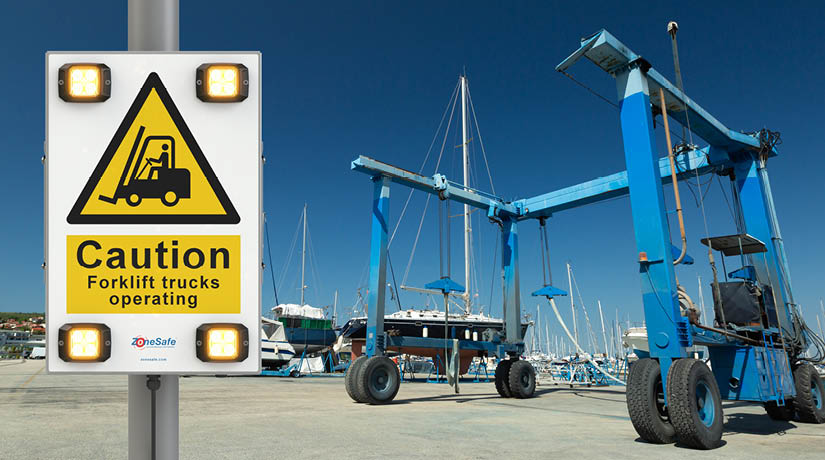 Activated Signage Proximity Warning Solutions
Our Active Signage Systems provide visual warnings to reduce operational risks for your pedestrian workers and vehicles.
Activated signs alert everyone nearby of approaching vehicles through flashing LED lights.

Activated signs are typically fitted next to entry/exit points, doorways, or blind corners.

A sensor is fitted to the vehicle and detects another sensor connected to the activated sign.

Sensors detect each other up to 50m away giving plenty of warning to approaching vehicles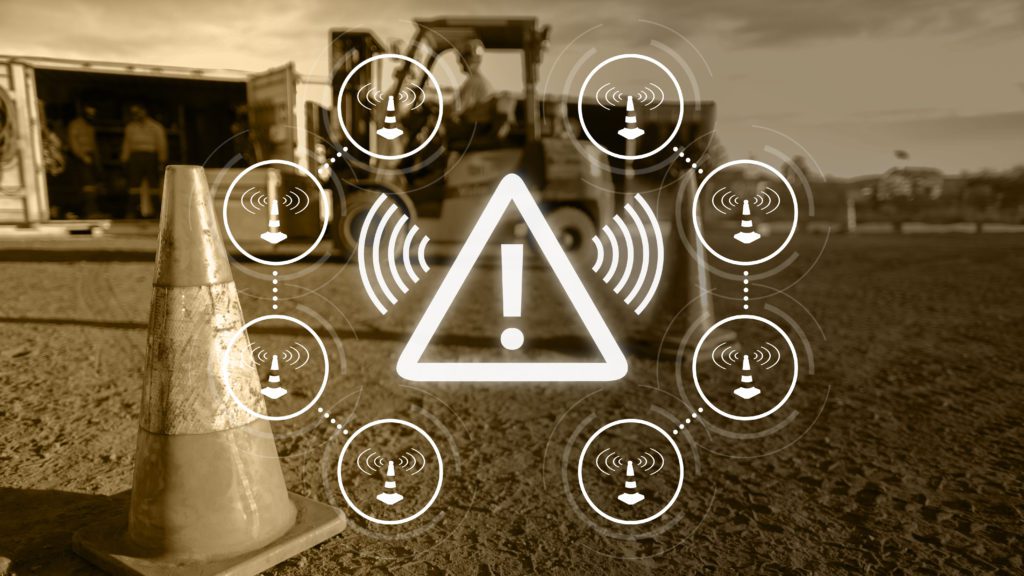 Asset Protection & Hazard Safety Proximity Warning Systems
ZoneSafe Vehicle Asset and Hazard Safety proximity warning systems help protect your vehicle from collisions with assets and hazards on your worksite.
ZoneSafe Tags are fitted into safety cones

Cones are easily placed around assets and hazards

Safety cones are detected up to 9 metres away

Alarm warns the driver when the vehicle gets too close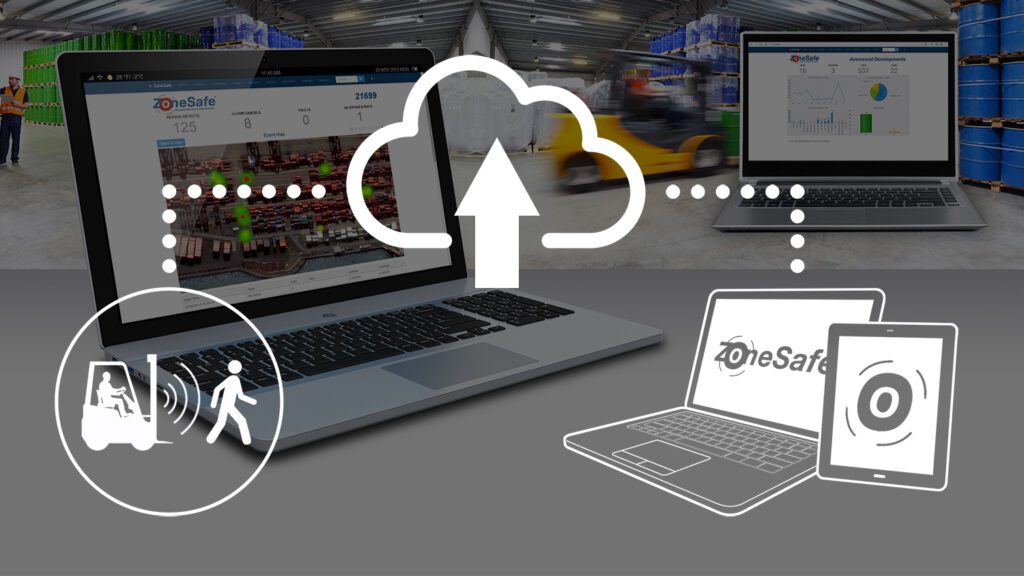 Improve Worksite Safety With Data Management
ZoneSafe Data Management helps you to understand, analyse and increase safety throughout your worksite. Information is uploaded to our cloud-based platform from the ZoneSafe control unit enabling you to gain unique insights to the safety of your worksite such as:
Tracking vehicle movements and records near-miss occurrences.

Identify trends and patterns to manage safety performance.

Analyse and compare events.

Generate custom reports and share data.
Components For ZoneSafe Proximity Warning Systems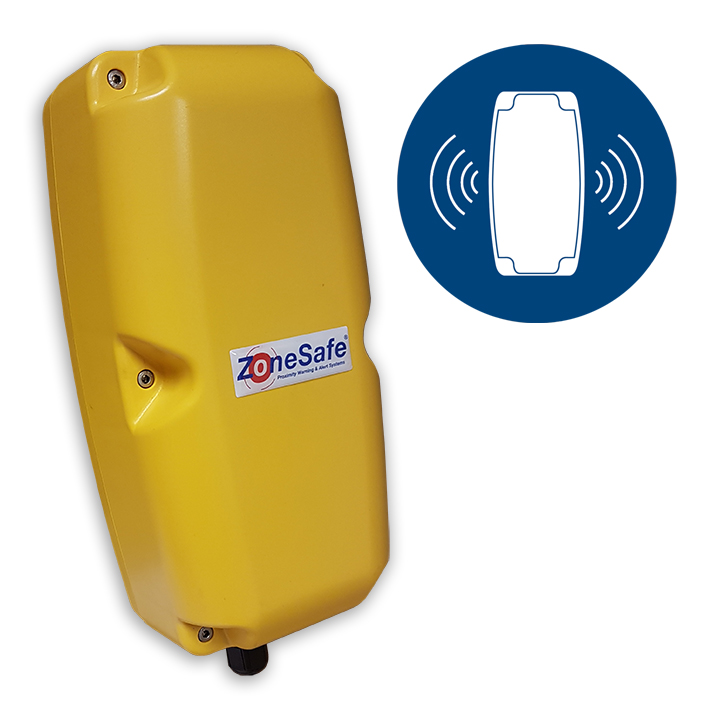 Antenna
The ZoneSafe antenna (or proximity sensor) is fitted to the vehicle. The antenna creates an invisible 360 degree adjustable detection zone around the vehicle and will detect ZoneSafe tags up to ten metres away.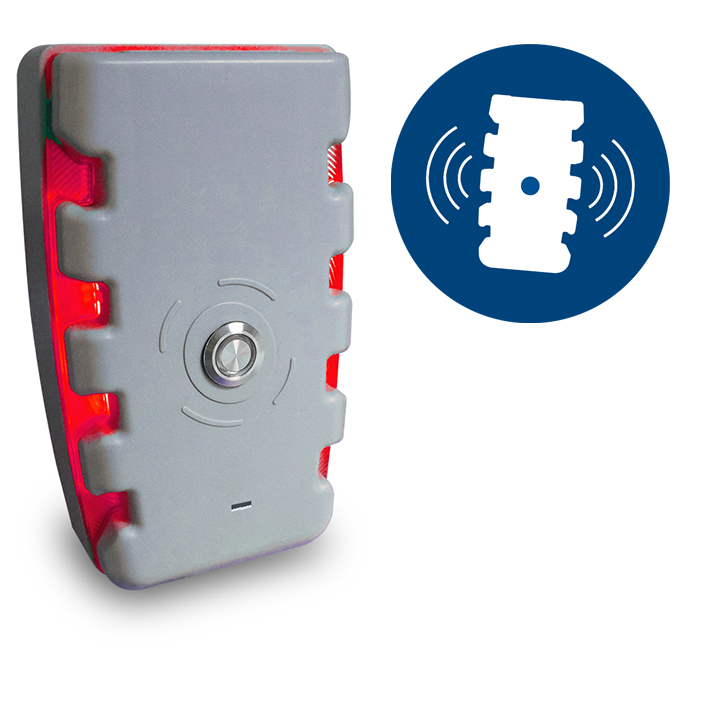 Control Unit
Positioned next to the driver in the cab of the vehicle, the ZoneSafe Control Unit warns the driver of every pedestrian or vehicle detection, alerting the driver to the pedestrian workers' close proximity via an audible and visual alarm.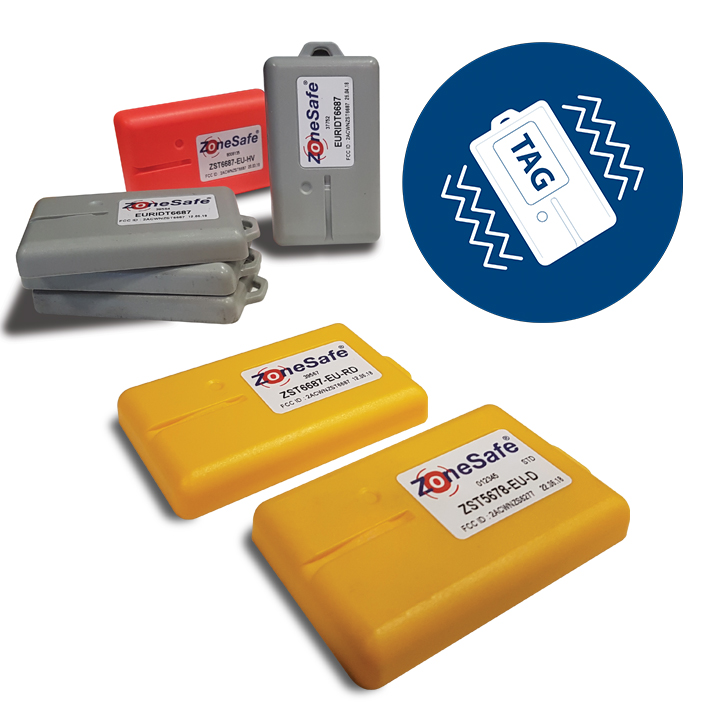 Tags
ZoneSafe tags are worn by all pedestrian workers helping to make your workforce completely detectable. Upon detection, ZoneSafe Vibratags also vibrate, warning the wearer to any approaching vehicles.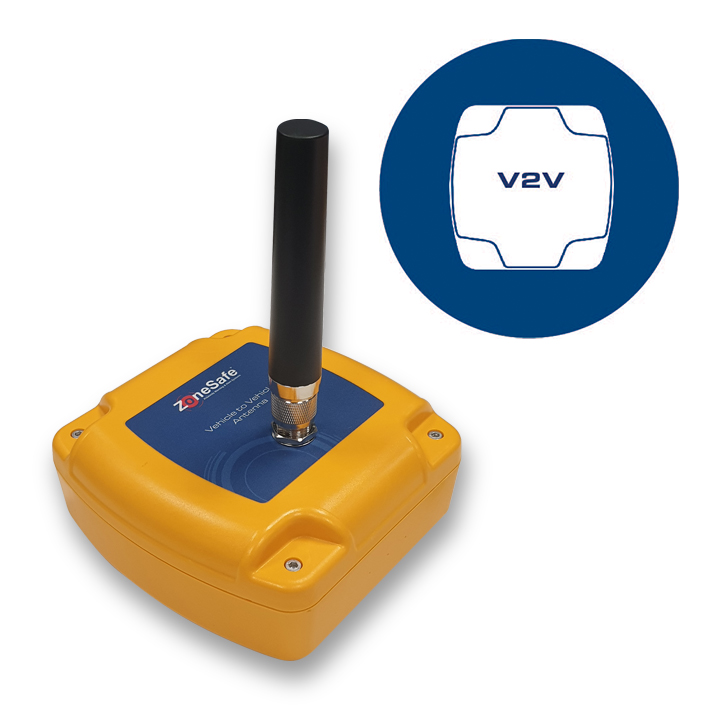 Vehicle to Vehicle Unit
The ZoneSafe Vehicle to Vehicle Unit is positioned on the roof of the vehicle and will detect any other vehicle up to fifty metres away. Once a vehicle is detected, it sends a signal to the Control Unit to warn the driver.
Increase Safety In Your Workplace With ZoneSafe
Over 30 years of experience in the RFID and proximity warning industry.
Supply adaptable technology to suit any vehicle type.
Deliver customisable solutions to meet specific safety requirements.
Design versatile safety systems that can function alone or in combination according to the worksite and level of protection required.
View Our Case Studies to find out how we have helped to reduce the risk of worksite accidents for various companies. 
Why should you choose a proximity warning system?
Base importance on your employees' safety – Reduce the risk of accidents and improve overall safety on your worksite.
Enhance employee retention – Aids personal awareness, enabling your employees to be more productive.
Protect your reputation - Reduces the risk of fines and court cases when accidents occur because you have safety measures in place.
Better place to work – Employees that feel protected make happier and more dedicated workers.
Cost-saving benefits - Prevents employee accidents and out-of-action vehicles/machinery.
Does your business operate in an environment bustling with pedestrians and vehicles? Protect your employees and take active measures to increase worksite safety.
Industries that require proximity warning systems
At ZoneSafe, we design our proximity warning systems for multiple industries, including but not limited to the following:
Find Out More
| | |
| --- | --- |
| | |
| Logistics and Distribution | |
| Logistics and Distribution | |
| | |
Our experience speaks for itself
Years experience in providing smart detection safety solutions
We've reduced the risk of injury to more than 16000 people in the last year
We've significantly increased the safety of our customers in over 25 countries worldwide
Some of the clients we have worked with:

Frequently Asked Questions
What is the purpose of a Proximity Warning Device?
What types of Proximity Warning Devices do you provide?
Are your Proximity Warning Systems for vehicles and pedestrians?
Can forklifts benefit from Proximity Warning Devices?
What vehicles can you fit a Proximity Warning Device to?
Do places need a Proximity Warning System?
Get in touch
ZoneSafe Head Office
Avonwood Developments Ltd,
Knoll Technology Centre,
Stapehill Road, Wimborne,
Dorset, UK, BH21 7ND
Call Us
+44 (0)1202 868000
Email Us
sales@zonesafe.com
All ZoneSafe proximity warning systems are manufactured and distributed by Avonwood Developments Ltd.
Find out more about some of the safety solution challenges we have faced here