>
>
Keeping Your Distance – Using Segregation To Stay Safe At Work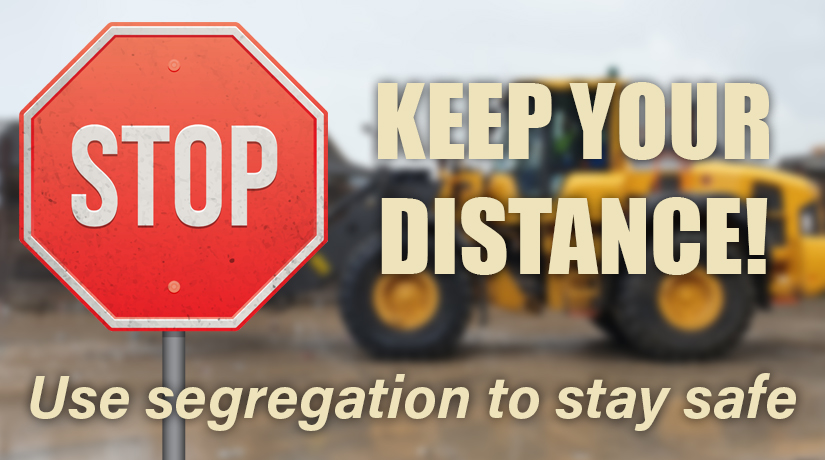 Keeping Your Distance – Using Segregation To Stay Safe At Work
Where people and vehicles work side by side, there is high potential for accidental injury. Around 50 people are killed and more than 5,000 injured in workplace transport accidents every year in the UK with the most common incidents involving people or objects falling from a vehicle, people being struck by a vehicle and vehicles overturning. [1]. Keeping your distance helps…considerably, but isn't always possible.
Pedestrians working in and around moving vehicles are most at risk so it's important you take measures within your business to keep people and vehicles apart. Segregation is the most effective way to avoid collisions and is extremely important in environments where industrial vehicles are used. Collision is a real concern with provisional HSE data for 2020 reporting a rise in the number of people killed by being struck by a moving vehicle from 20 to 25.[2].
UK businesses are required by law to ensure: (https://www.hse.gov.uk/workplacetransport/separating.htm)
Pedestrians or vehicles must be able to use a traffic route without causing danger to the health or safety of people working near it.
Roadways and footpaths should be separate whenever possible.
Protection should be considered for people who work near vehicle routes.
Traffic routes must also keep vehicle routes far enough away from doors or gates that pedestrians use, or from pedestrian routes that lead on to them, so the safety of pedestrians is not threatened.
Of course, every worksite is different and it can be difficult to provide separate routes depending on the size and layout of your facility. This is where proximity warning solutions really excel, making segregation possible in any workplace, transforming unsafe working areas into safe working areas, removing blind spots, and addressing many common safety concerns.
How do proximity warning systems help?
Segregation through separate routes for pedestrians and vehicles is the ideal solution – it's the best way to avoid accidents but unfortunately isn't always possible. Proximity warning solutions use state of the art technology to make segregation possible whatever the layout and space available. They not only raise user awareness of nearby threats but can also interact with vehicles, safety barriers and hazards to produce physical, audible, and visual alerts. The system is fitted to fixed hazards and vehicles to create an invisible detection zone in high-risk areas. Pedestrians, operators and even assets are then fitted with wearable tags that might vibrate, sound an alarm, light up or deliver a  combination of alerts to raise the alarm.
ZoneSafe proximity warning solution has been used to solve a range of challenges in a variety of sectors. The system can operate in areas with low lighting and poor visibility, at height, around blind spots, at crossing points, around aircraft, forklifts and more. ZoneSafe has even been applied in fully automated environments to protect robotics and other assets from vehicles operating in proximity. The system can also be tweaked to suit your individual workplace and adapted to meet your very specific challenges.
What other measures can you take to achieve segregation?
The safest workplaces are those that incorporate several safety precautions that work together and are underpinned by clearly defined procedures and training. Here are some other measures that help to create effective segregation of people and vehicles.
Safety signage and markings
Signage that alerts pedestrians and drivers to hazards should be clearly visible, clean, well maintained, and relevant to the risk in the area. You should also consider lighting or illuminated signage in areas with poor visibility or in dark workplaces.
Signage helps to reinforce any physical measures which are also in place. Traffic routes must be well signposted and clearly visible. It is easy and inexpensive to add floor markings to map traffic routes using paint or tape.
Bollards and barriers
Bollards can be moved easily, so aren't as effective as solid barriers but are a simple and inexpensive way to clearly mark traffic routes and are very useful when temporary routes or route changes are needed.
Fixed barriers at crossing points, corners, entrances/exits, and blind spots create a much more visible division between pedestrian and vehicle activity. Control gates, interactive barriers, audio/visual alerts, and traffic light systems also work well in stopping the flow of pedestrians or vehicles when needed.
There always remains the risk of vehicle collision with barriers and bollards so it is worth considering highly durable fixed barriers that can hold the weight of a vehicle in heavy traffic areas.
Separate access and crossing points
Accident risk is greatest where there is a need for pedestrians to use or cross vehicle routes making separate vehicle and pedestrian entrance/egress and traffic routes worth considering. The safest routes for pedestrians are those that are completely segregated from any vehicle activity.
Crossing points should be in areas where there is full visibility in all directions and can include traffic lights, gates, signage, and floor markings. Rails, barriers, and signage around crossing points alert users to danger. Audible alarms and automatic gates or traffic lights can be applied to add an extra level of user awareness.
Traffic control measures
One-way systems are highly effective in reducing the risk of pedestrian/vehicle collision and help in reducing the need for reversing which is responsible for around a quarter of all workplace transport accidents. One-way systems also lower the risk of vehicle-to-vehicle collision. Again, clear, well-maintained floor markings and signage complement one-way systems making them highly visible to users.
Controlling vehicle speed is important particularly in areas where total segregation isn't possible. Speed limits must be appropriate for the size and type of vehicle and site layout. Speed can also be reduced using speed bumps, traffic lights, gates, stopping points and speed-controlled vehicles.
Contact ZoneSafe
Keeping your distance only goes so far. If you would like to discuss your safety concerns and learn how ZoneSafe can help, get in touch:
+44 (0)1202 868000
sales@zonesafe.com