Activated Forklift Safety Signs
Here: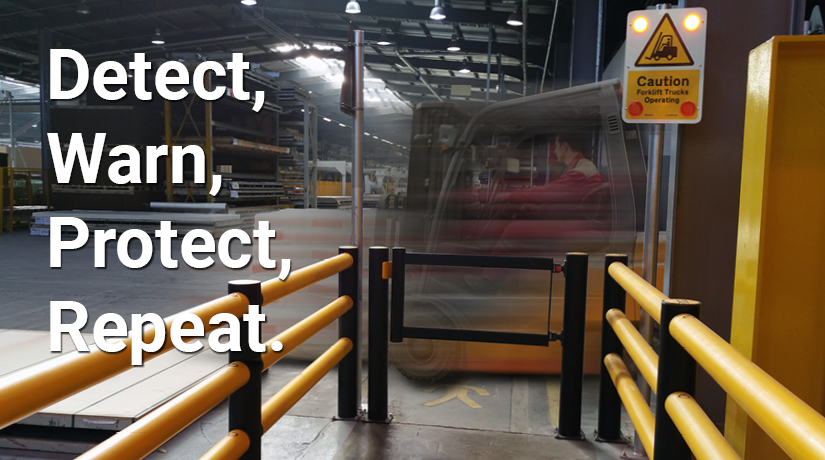 Installing forklift safety signs on your worksite can be crucial to avoiding accidents and reducing the risk of collisions between moving vehicles and pedestrian workers. A strategically placed forklift pedestrian safety sign could be the difference between going home, going to hospital or worse!
There are, of course, many different types and sizes of forklift safety signs, and most are just that: a sign that provides essential information to read. But what happens if your workforce doesn't read the sign? How can you ensure your staff take note of the information? What if that information is critical to the safety of your workforce? Maybe you need to talk to ZoneSafe about their new activated signage range.
Access Control & Vehicle-Activated Signage
ZoneSafe's interactive flashing signs automatically detect approaching vehicles and warn everyone of the imminent danger of an oncoming vehicle via flashing lights. A strategically placed interactive forklift safety sign fitted next to a blind corner, doorway or along a corridor will significantly reduce the risk of person-to-vehicle collisions and make your worksite a much safer place to work.
Using proximity warning technology, each sign is fitted with a proximity sensor, whilst a second proximity sensor is fitted to the forklift truck. Each sign will detect the approaching forklift up to 50 metres away. When the proximity sensor detects the forklift, the forklift safety sign flashes via LEDs fitted at the top and bottom of the sign, warning everyone in the area of the approaching vehicle. Once the vehicle has left the detection area, the lights stop flashing.
"The range sits between a forklift pedestrian safety sign solution and a proximity warning system"
David Thomas, ZoneSafe General Manager, describes the new range, "The range sits between a forklift pedestrian safety sign solution and a proximity warning system. The solution benefits any worksite looking for a safety solution that's more advanced than safety signage, offering an interactive and cost-effective solution that provides enhanced awareness. You can add layers of safety, or different elements to the safety solution, such as projected floor images, self-locking forklift safety barriers and gates, or even forklift slow-down, depending on your vehicle. We can make all of this happen upon detecting an approaching vehicle."
The full range of activated signage and zone control also includes further options for forklift pedestrian safety lights and a range of traffic lights which can also provide traffic control. Click here for more information about ZoneSafe's Active Signage and Zone Control.
Be confident in the safety of your worksite. ZoneSafe products significantly reduce the risk of accidents and help create a positive safety culture, leading to improved staff morale and productivity. Talk to us today to find out how we can make your worksite a safer place to be.
Download Your FREE Guide To Improving Worksite Safety
Please provide your email address below to download your copy and learn how to reduce the risk of vehicle-pedestrian collisions.