>
>
How do tag-based proximity warning systems compare with other devices?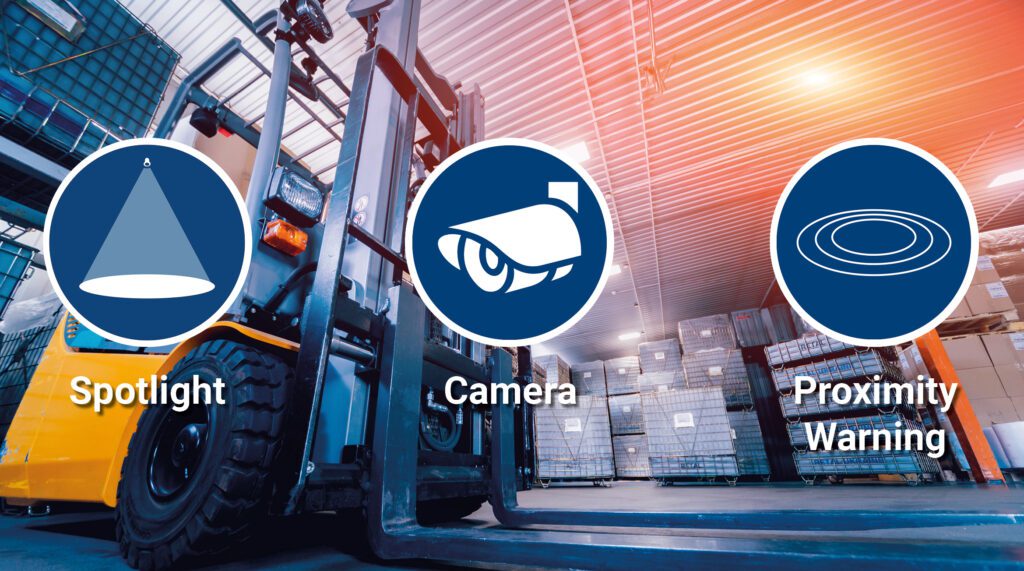 How do tag-based proximity warning systems compare with other devices?
What is a tag-based proximity warning system?
Most proximity alert devices are tag based, meaning the proximity warning system requires your workforce to wear an Active RFID Tag.
ZoneSafe Vehicle to Person Alert works by giving the pedestrian worker a tag to wear so they can be detected around moving vehicles by the ZoneSafe proximity warning system. Once the tag is detected, the vehicle driver is made aware that a pedestrian worker is in close proximity to the vehicle via an alarm from the ZoneSafe in-cab control unit and slows down the vehicle.
This type of system is purposely designed to detect pedestrian workers who share the same workspace with moving vehicles, helping to keep them safe and significantly reducing the risk of accidents and collisions.
Tag-based proximity warning systems, forklift safety lights and camera detection systems are all safety solutions used on worksites to detect pedestrian workers and reduce the risk of accidents. Below we discuss how each safety solution works and the benefits of each system helping to keep your workforce safe.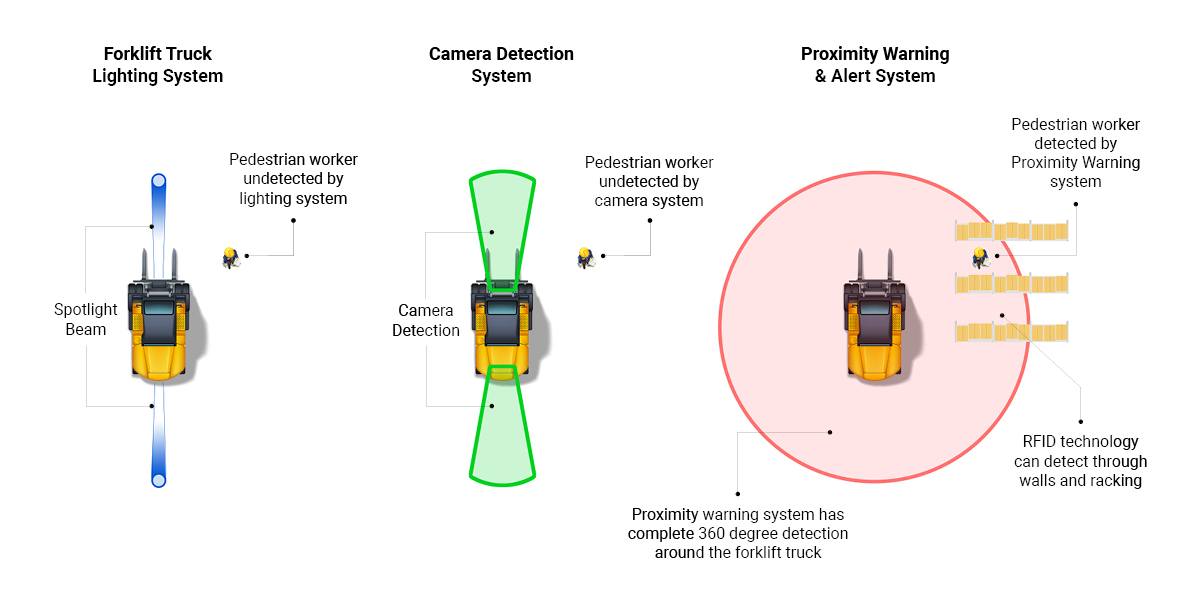 Forklift truck lighting systems
The original pedestrian-to-forklift safety system fixed a spotlight on the vehicle. This system projected a spotlight onto the floor from either the front or back of the vehicle (or both), helping to make pedestrians aware of the approaching vehicle. Since the original "blue spot" design, this type of safety light solution has developed into light bars fitted in multiple locations around the forklift. Lights now beam directly onto the floor, and the shape of the light effect has changed from a single blue dot to a continuous line beam all around the forklift truck.
This system works well in dark conditions, for example, forklifts working outside at night whilst loading from warehouses and distribution depots. However, these systems rely on the pedestrian worker noticing the light beamed onto the floor and reacting accordingly. It's also worth considering how visible the light is during the day and how easy it is to spot.
Camera detection systems 
Camera detection safety systems are one of the market's latest and most technically advanced solutions. With varying degrees of success, the camera can identify pedestrian workers in the direction it's pointing. Once a person is detected, an alert warns the driver of the pedestrian worker's close proximity. Camera systems can also integrate with forklift slowdown systems to reduce the vehicle's speed to enhance the solution further. 
This type of safety solution can be the most expensive on the market. And depending on the type of camera system, reports suggest not all solutions detect well. Some systems even struggle to differentiate between pedestrian worker detection or an asset placed on the floor next to it, especially in low light or poor weather conditions. Cameras can only see in one direction unless multiple cameras are fitted. Then there's also the need to constantly clean the lens, meaning this type of technology might not be ready to reduce the risk of accidents on worksites yet. 
Proximity Warning Systems
Proximity warning systems have been the go-to technology for pedestrian detection over the last few years. Using RFID technology, a tag-based proximity warning and alert system identify personnel (wearing a tag) positioned within the vehicle's proximity (or detection zone) up to ten metres away. Like the camera system, the driver is warned via an in-cab alarm of everybody detected by the safety system. 
Proximity warning technology is also the only system to provide complete 360-degree detection around the vehicle. The ZoneSafe solution also benefits from detecting pedestrian workers through walls, racking, around blind corners and even through doorways. The system also detects pedestrian workers every time and is not affected by low light or poor weather conditions. 
Do all proximity warning safety solutions do the same thing? Most systems detect pedestrian workers similarly, but most need to use tags as part of their solution. This could be an issue if you have a large workforce because tagging everyone on-site could be expensive. ZoneSafe has taken a different approach by offering a tagless and tag-based proximity warning solution.
What is a tag-less proximity warning system?
Simply put, a tag-less proximity warning system detects approaching vehicles instead of detecting pedestrian workers. Upon vehicle detection, the system alerts everyone in the vicinity to the approaching vehicle via flashing lights, electronic warning signs or floor projection.  The full range of active warning solutions includes: 
Electronic warning signage

 

Floor warning projection

 

Vehicle slowdown zones

 

Warning lights and/or traffic lights

 

Pedestrian access control (gates and barriers automatically shut or lock upon vehicle detection)

 
To find out more, contact us today on 01202 868000, email sales@zonesafe.com or download our latest brochure here.