>
>
Vibrating proximity tags offer two way warning feedback and easy charging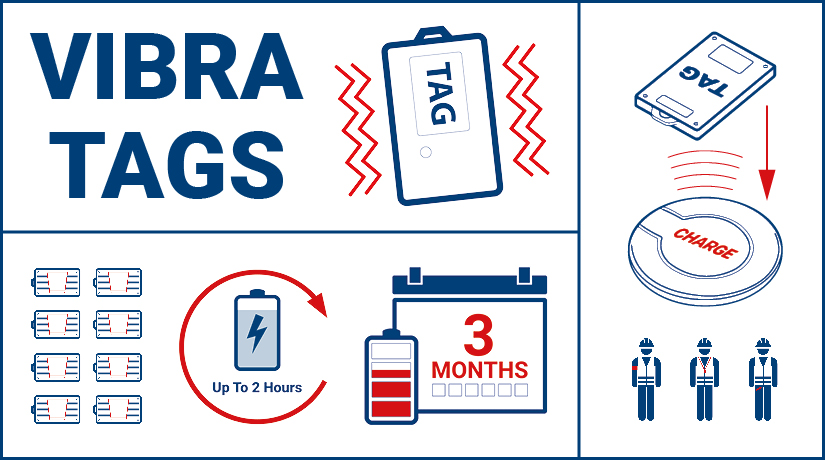 Vibrating proximity tags offer two way warning feedback and easy charging
Vibrating proximity tags 
Vibratags (vibrating tags) are a key component of a ZoneSafe proximity warning and alert system by making the "tag wearer" detectable. Helping to reduce the risk of accidents, each Vibratag provides two-way feedback to both vehicle operators and pedestrian workers by:
Alerting the vehicle operator to the close proximity of a pedestrian worker via the in-cab control unit.
Warning the pedestrian worker of approaching vehicles through tag vibration.
Charging Vibratags
One of the many benefits of vibrating tags, or "Vibratag", is the fact that there's no need to replace the tag's batteries. Instead, they can simply be recharged using either the ZoneSafe 5 Bay Charger or wireless single tag charger. This provides considerable through-life cost savings, with each tag expected to last up to ten years.
An average tag charge will last up to 3 months
Tag charging is usually complete in under 2 hours
Tags are wearable and form part of your PPE
Vibratags can be worn in armbands, clipped to a lanyard or placed in your pocket. Using the optional tag clip, Vibratags can easily be attached to helmets and hardhats or clipped to your belt. Unlike UWB systems the tag is detectable inside a pocket, through walls, racking, around blind corners and even through doorways.
For more information about vibrating tags or any ZoneSafe safety solution, contact us to discuss your site safety requirements.