>
>
Improving Maritime Safety With Active Signage: ZoneSafe's Impact on Port and Marina Operations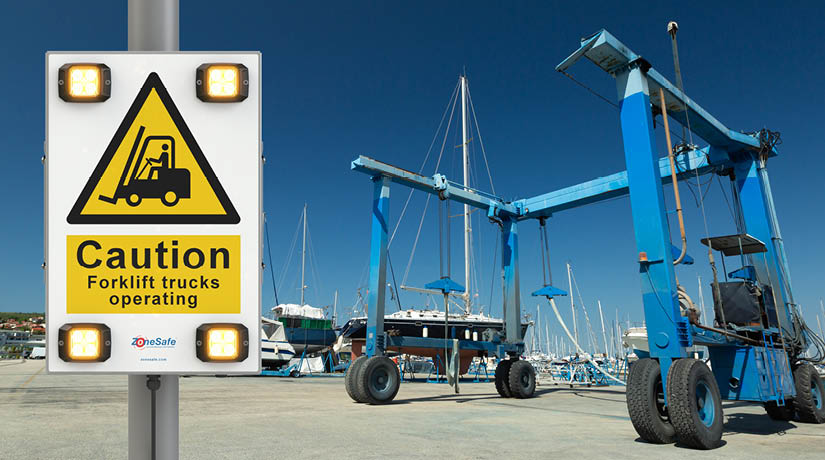 Improving Maritime Safety With Active Signage: ZoneSafe's Impact on Port and Marina Operations
Ports and marinas are dangerous places with multiple operations and a wide range of industrial equipment and vehicles working around each other in confined spaces. The diverse range of activities from lifting and launching to cleaning and repairs, and operation of heavy machinery and vehicles, creates a complex and challenging environment. The presence of pedestrian workers and members of the public alongside this type of activity equates to increased risk so precautions should always be taken to ensure safe operation.
Where workplace transport and people operate closely together there is always potential for serious accidents, and ports and marinas are no exception. In 2017, a pontoon traffic marshal was struck by a reversing delivery van at the port terminal. The man suffered serious multiple injuries including skull and body fractures and lost his sight in one eye. The HSE investigation found a lack of effective control and segregation between pedestrian workers and moving vehicles as a key factor in the incident[1].
Many of the vehicles commonly used at ports and marinas such as straddle carriers, reach stackers, cranes and forklifts can suffer from limited driver visibility which obviously contributes to the risk. Operations take place all hours of the day, often in adverse weather conditions, with lots of noise and low visibility, which adds to the challenge.
Common workplace transport risks around ports and marinas include:
·        Unstable loads falling
·        Loading and unloading of vehicles
·        Lack of segregation between pedestrians and vehicles at access points
·        Coupling and uncoupling of trailers and vessels
·        Reversing vehicles
·        Movement of vehicles around ships and quayside
Whilst workers are trained to be aware of these issues, the addition of the public into the mix, creates an extra layer of consideration when it comes to safety. Passengers, boat owners, and members of the public simply enjoying a walk around a marina, are often completely unaware of the machinery around them so can accidently find themselves in a risky situation.
Workplace transport accidents take place every day across a range of sectors in the UK often resulting in serious and fatal accidents. Being struck by a moving vehicle is one of the most common causes of fatal workplace accident and HSE figures show 20 people were killed in this way in 2022/23[2]. For our customers, ZoneSafe plays a vital role in reducing the occurrence of such incidents.
In other sectors, many of our customers opt for ZoneSafe proximity warning tags as part of everyday PPE for workers, but in an environment with members of the public and areas where there is uncontrolled access to pedestrians such as a marina, a different approach is required.
Improving Maritime Safety
The ZoneSafe range of proximity warning solutions includes sensor activated products that easily address these issues.
ZoneSafe sensor-activated warning signs communicate directly with working vehicles and automatically illuminate on approach. This means pedestrians in the area are immediately drawn to the sign, alerting them of the danger. The system is proven to reduce potential collision risks between pedestrians and vehicle traffic.
How do sensor-activated warning signs work?
A sensor is mounted to the vehicle and a detection zone is created around signage to an adjustable distance. The signage is only activated when a vehicle reaches the detection zone, and the signs automatically illuminate and, in some cases, sound an alarm to alert pedestrians of the vehicle's presence.
The warning is only active when a vehicle is present so the signage offers an engaging solution that grabs attention when needed. The sign uses alternating, flashing amber lights to create a highly visual experience, alerting everyone of the presence of risk.
Unlike a static warning sign which often gets filtered out, ZoneSafe's sensor-activated sign draws attention only when a potential hazard exists and then automatically turns off, preventing sign blindness and over-warning when the risk of an accident or collision is no longer present.
ZoneSafe's Active Signage offers a practical solution to pedestrian/vehicle collision risk in numerous environments including ports and marinas. ZoneSafe is a powerful tool for enhancing onsite safety, reducing the risk of collisions, raising awareness and driving positive safe behaviours.
Get in touch to discuss port safety and learn more about ZoneSafe.
Contact us
Call Us: +44 (0)1202 868000
Email Us: sales@zonesafe.com
[1] Ferry operator fined over worker injury at UK terminal – SAFETY4SEA