ZoneSafe exhibiting at
Safety & Health Expo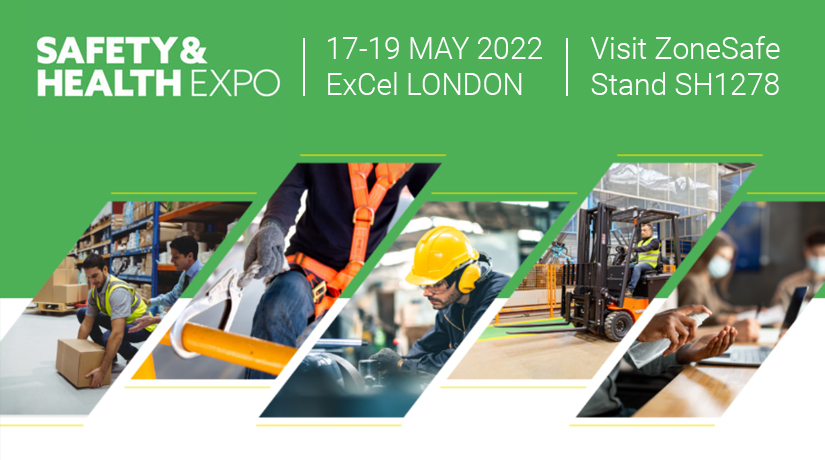 Proximity warning and safety system specialist ZoneSafe exhibiting at the Safety & Health Expo at ExCeL London. 
ZoneSafe Proximity Warning Systems will exhibit at this year's Safety and Health Expo at London's Excel, 17th-19th May. The largest event of its kind in the UK, The Safety and Health Expo attracts around 20,000 visitors and features informative seminars with more than 60 industry speakers.
ZoneSafe, manufactured by Avonwood Developments Ltd, offers customers a range of practical safety solutions that help to reduce accidents, collisions, and serious near-miss occurrences in busy worksites. The ZoneSafe portfolio of products are designed to increase visibility and awareness, improve user performance, and positively change workforce behaviours.
The company manufactures its safety systems in house and works with a global network of distributors to meet the needs of a worldwide customer base across a range of industrial sectors including warehousing and logistics, manufacturing, waste and recycling, construction, utilities, and aviation.
The ZoneSafe team will be showcasing their products and services on stand SH1278 from 17th-19th May 2022. Exhibition attendance is free and visitors can register via the website https://www.safety-health-expo.co.uk/en/home.html
With ZoneSafe exhibiting at Safety & Health Expo and so much to see, will you be visiting this year? Find out more about ZoneSafe systems – www.zonesafe.com
Don't miss your chance to join the ZoneSafe Newsletter. From health and safety news, case studies, new products, even sector-specific safety solutions - make sure you leave your email address to find out everything ZoneSafe.