>
>
Five effective ways to increase warehouse pedestrian safety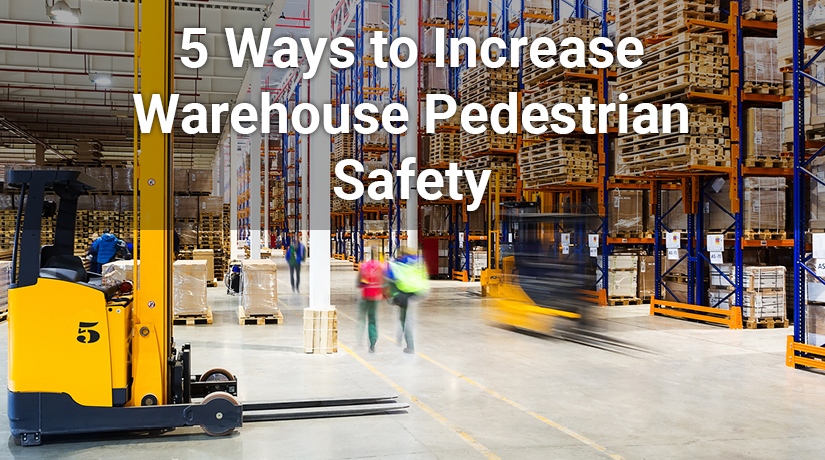 Five effective ways to increase warehouse pedestrian safety
Warehouses are busy places and can be extremely dangerous. Common workplace accidents in the warehouse include slips, trips and falls, vehicle/pedestrian collisions, and machinery accidents. Earlier this year, HSE figures revealed that 20 people were killed being struck by a moving vehicle in 2022/23 [1]. The need to improve warehouse pedestrian safety is paramount, surprisingly a recent survey carried out by Forbes indicated warehouse workers were found to be the third most dangerous jobs in the UK behind firefighters and police officers [2].
Anywhere where manual handling equipment (MHE) and people work closely together is risky, and warehouses are no exception. Vehicles and plant equipment are commonly used, often in close proximity to pedestrian workers, creating an immediate threat to safety. Being struck by a moving vehicle is the second most common cause of fatal accidents, with 29 people killed across all industries in 2022/23 alone[3].
As fatal and non-fatal accidents continue to occur yearly in the sector, more must be done to increase warehouse pedestrian safety. The good news is that most of these accidents are avoidable with the right approach.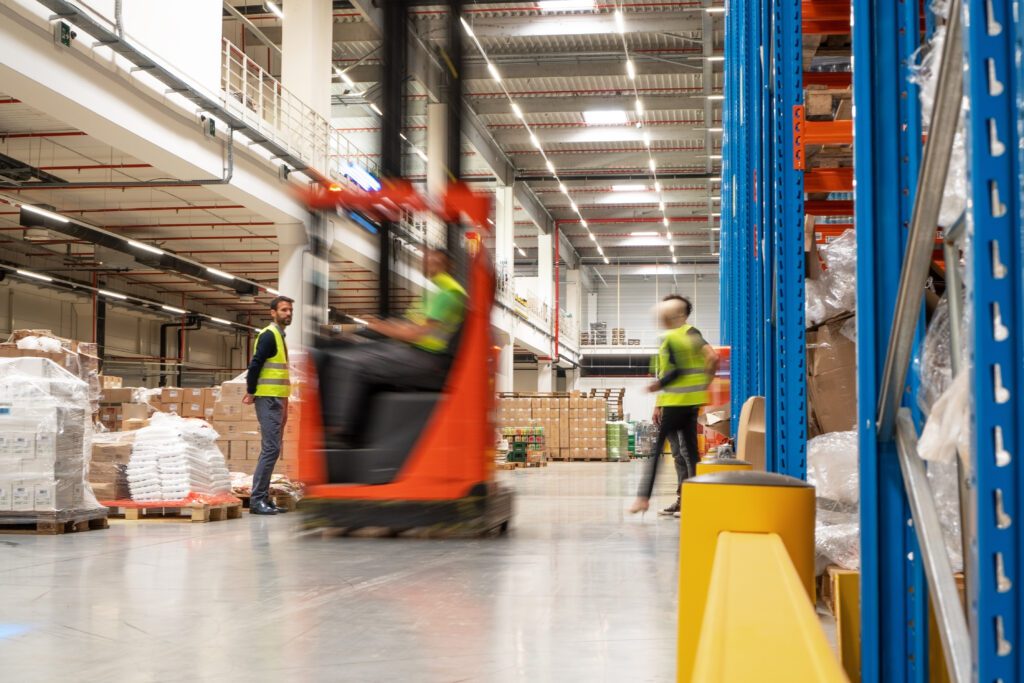 So what are the 5 ways to increase warehouse pedestrian safety?
Take care around forklifts and other manual handling equipment
Vehicles and manual handling equipment are crucial to warehouse operations, but accidents involving pedestrians are all too common. Forklifts, in particular, are involved in a disproportionate number of serious accidents, with pedestrians most at risk. The theme of a recent National Forklift Safety Day entitled 'Separation Saves Lives' highlighted RIDDOR data from a three-year period that showed 43% of incidents with forklift trucks involved impact with a third person, and in 65% of these cases, the pedestrians were engaged in activities totally unrelated to the truck operation[4].
Vehicles must only be operated by those trained and approved to do so, with speed restrictions in place and vehicle maintenance, which must be regular and thorough. Performing daily inspections and using safety checklists for warning lights, tyres, seat belts, mirrors, and other equipment helps identify issues contributing to an accident.
Ensure robust training and procedures are in place
Training is an essential part of any health and safety initiative. Training instils the required knowledge around the proper use of equipment and teaches everyone procedures crucial to safe operation. Robust procedures should be clear and easy to understand – these arm everyone with a common set of instructions for safe working practice, helping people handle difficult situations. Well-trained, knowledgeable staff work more efficiently as a team – this positively impacts productivity and helps the business to operate effectively.
Create separate pedestrian and traffic routes 
Designated zones and separate traffic routes or one-way systems make it much easier to keep people and vehicles apart and will significantly reduce the risk of collision. But as space is often limited in warehouses, it's only sometimes possible to achieve this. The HSE recommends total segregation, but if this can't be done, physical measures, including barriers, cones, and crossings, can help improve warehouse pedestrian safety.
Removing the need for reversing significantly reduces the opportunity for accidents. Almost a quarter of all deaths involving vehicles at work occur when drivers reverse[5]. With this in mind, reversing should be avoided where possible, but other precautions should be taken if it can't be.
By increasing driver visibility, the risk is reduced and applying equipment such as mirrors and cameras helps to aid driver vision around corners, blind spots and when reversing. ZoneSafe proximity warning solutions help drivers 'see the unseen' by alerting them to the presence of people and hazards. The system simultaneously alerts pedestrians in the area, allowing them to remove themselves from danger before it's too late.
Make signage engaging 
Safety signage regulations provide mandatory guidance for workplace safety signage, requiring employers to provide safety signs 'where there is a significant risk to health and safety that has not been removed or controlled by other methods'.
Safety signs provide an instantly recognisable indicator of risk and can help reduce accidents, but when viewed in the workplace daily, they can lose their impact. In these cases, it's helpful to consider more engaging options. The ZoneSafe range of vehicle-activated warnings integrate into active signage and floor projection warnings to create a highly effective and engaging alert that grabs attention and prevents accidents.
Practise good housekeeping 
Clutter, over-stacked shelves, hanging objects, spills, ramps and uneven floors make it much more difficult for vehicles to operate safely. To ensure good visibility, signage and lighting should be well maintained, clean and free from dust.
Uneven flooring and clutter is detrimental to vehicles such as forklifts due to their tendency to tip. Their design means forklifts are prone to toppling over, and their heavy weight risks are severe and sometimes a fatal crushing danger to drivers and pedestrians. Indeed, 42% of forklift truck accidents in 2020 resulted in a crushing incident from the vehicle tipping over[6].
Warehouse pedestrian safety checklist
Conduct a risk assessment.
Ensure effective training and procedures are in place.
Maintain workplace transport, plant equipment and PPE.
Take special care around vehicles and forklifts.
Create separate driving routes and reduce the need to reverse.
Control speed.
Ensure correct sign placement and consider more engaging signage. options.
Practise good housekeeping.
Invest in ZoneSafe safety technology, proven to increase warehouse pedestrian safety, reduce accidents and create safer workplaces.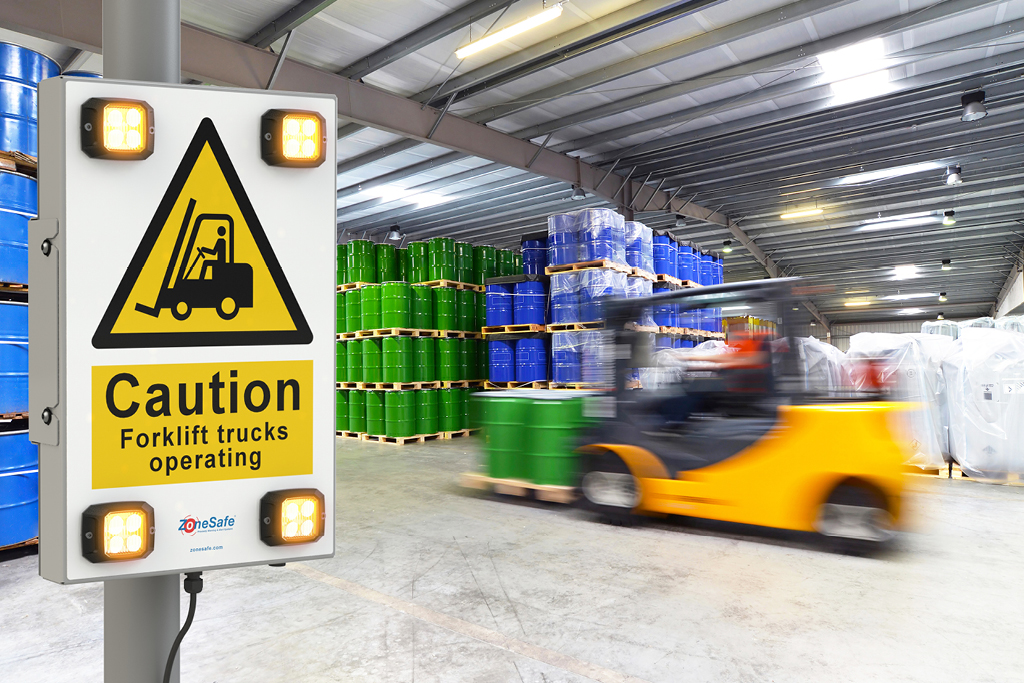 Get in touch with ZoneSafe to discuss your warehouse pedestrian safety concerns.
[1] https://www.hse.gov.uk/statistics/fatals.htm
[2] https://www.forbes.com/uk/advisor/life-insurance/what-are-the-uks-most-dangerous-jobs/
[3] https://www.hse.gov.uk/statistics/fatals.htm
[4] https://nationalforkliftsafetyday.co.uk/2020-pedestrian-impact/
[5] https://www.hse.gov.uk/workplacetransport/information/reversing.htm
[6] https://www.claims.co.uk/accidents-at-work/forklift-accidents