>
>
Challenging unsafe behaviour in the workplace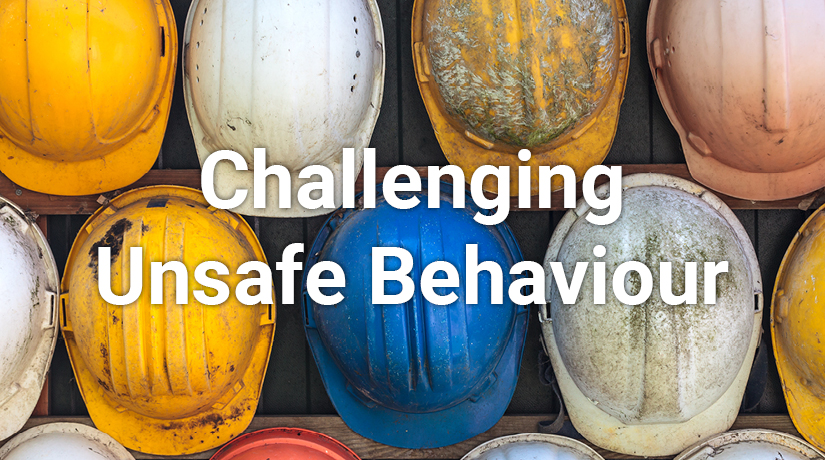 Challenging unsafe behaviour in the workplace
All organisations are obligated to create a safe environment for employees, visitors, and, in some cases, members of the public. Numerous laws and guidelines around safety procedures and training requirements are designed to educate, raise awareness, and ultimately reduce the chance of an accident.
But despite these measures and advances in safety systems, accidents still happen, and one of the key factors is often human behaviour. Every year, thousands of accidents occur in the UK, and the HSE reports that the vast majority of these can be attributed to human behaviour [1].
Why do people behave unsafely?
People generally don't go to work with the intention of having an accident. Accidents are usually the result of a series of events or multiple failings. If training is insufficient, risks are not communicated effectively. If management doesn't lead by example and fails to enforce safety policy, the workforce will be unlikely to take precautions seriously.
People behave unsafely for several reasons. These can include:
Over familiarity, complacency and feeling too comfortable in the routine
Taking shortcuts to save time and get the job done
Overconfidence in their own ability
Stress – when the workload is too much, and there is pressure to deliver within an unachievable timeframe
Poor or inadequate training
Being unaware of the potential consequences
Peer pressure
Poor Management and supervision
Organisations with a strong safety culture promote and encourage safe behaviour. Safety must underpin all operations in high-risk industries like the ones we work with. Everyone is responsible for not only their own safety but the safety of others, too. Academic research examining ethical work behaviour shows that bad choices are more likely when the organisation encourages individualistic behaviour over collaboration [2].
Doing the right thing
So, what would you do if you witnessed unsafe behaviour in your workplace? It's difficult to know how you would react if you observed a colleague or friend making a dangerous mistake that could result in an accident.
The businesses we work with invest in ZoneSafe to address safety concerns around vehicle/pedestrian collisions. HSE data states there are more than 5,000 accidents involving transport in the workplace every year in the UK, with around 50 of these resulting in death[3]. Failure to report high-risk behaviour or a near miss could result in a serious accident in the future. Nobody wants to report their colleagues, but failure to do so could result in a catastrophic event.
How to challenge unsafe behaviour
If you see something that doesn't look right, speak up! Challenging unsafe behaviour today could prevent an accident from happening tomorrow.
Talk to the individual – Remember, people rarely make mistakes deliberately. The person behaving unsafely may not know what they're doing is dangerous – they may have received inadequate training or perhaps did not understand how it was communicated. If you feel comfortable doing so, approach the individual and be respectful and supportive while highlighting the dangerous activity and potential risk.
Inform a supervisor – Share your concerns. It's important supervisors and management are made aware of unsafe behaviours so that they can address issues from the top down and support the individuals concerned. Explain the incident concisely and reference the safety protocols that have been broken.
Report it – follow company procedures for reporting dangerous acts and near misses. Reports should be clear, detailed, accurate and objective. If appropriate, use photographic evidence to support the report.
Familiarise yourself with safety procedures – Ensure you are up to date with your knowledge and fully understand the latest regulations and procedures.
Seek guidance – If you're unsure how to handle the situation, ask for support. Speak with your supervisors, safety officer or HR. They can help to guide you to the best course of action.
When challenging unsafe behaviour, it's important to look at the bigger picture. Think of the consequences of not reporting the activity. By ignoring the incident, it could happen again with devastating consequences. It may be that the individual has not been fully trained, signage is unsuitable, or procedures around the activity are inadequate, and better safety systems need to be adopted. By challenging the behaviour and highlighting the risk, real action can be taken.
Safety is everyone's responsibility, regardless of your position within the business. The businesses that employ ZoneSafe do so because they have identified risks and they are committed to improving site safety. Learn more about how ZoneSafe has transformed customer's safety onsite in our video testimonials.
[1] Human factors/ergonomics – Managing human failures (hse.gov.uk)
[2] 3 Reasons Employees Act Unethically – Network for Business Sustainability (NBS)