>
>
ZoneSafe Exhibiting at UKMHA Safety Convention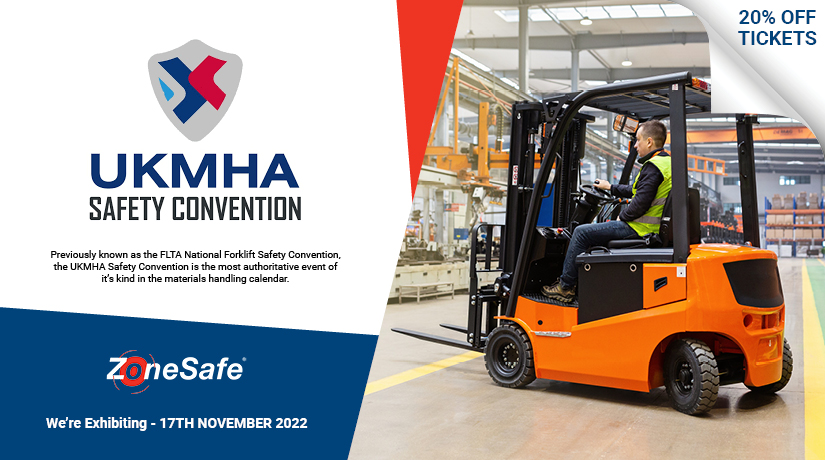 ZoneSafe Exhibiting at UKMHA Safety Convention
This year's UKMHA Safety Convention has been re-arranged for next month, November 17th 2022, and ZoneSafe will be exhibiting! Previously known as the FLTA National Forklift Safety Convention, managers, safety officers, trainers and staff members will be coming together and sharing best practice advice with a focus on operator training.
Exhibiting at the convention, ZoneSafe will be attending for the 4th year running. Demonstrating ZoneSafe Vehicle to Person Alert, the proximity warning safety solution significantly reduces the risk of accidental collisions between forklift trucks and pedestrian workers. Also on the ZoneSafe stand will be the new range of activated signage – electronic warning signs that flash upon vehicle detection. Come and visit the stand and learn more about the latest range of ZoneSafe safety solutions whilst learning more about forklift operator best practices, training and warehouse safety from the UKMHA Safety Convention.
Interested in attending?
It's worth noting that The UKMHA are currently offering discounted tickets to The Safety Convention for all tickets purchased before 10th November, and a further discount for UKMHA members.
To find out more about ZoneSafe's range of proximity warning solutions, click here. And if you need any further help or advice regarding worksite safety, ring us on +44 (0) 1202 868000, email sales@zonesafe.com or complete the form on the contact us page, and we'll get back to you as soon as possible.