>
>
Forklift truck supplier selects ZoneSafe technology to meet its safety needs
Forklift truck supplier selects ZoneSafe technology to meet its safety needs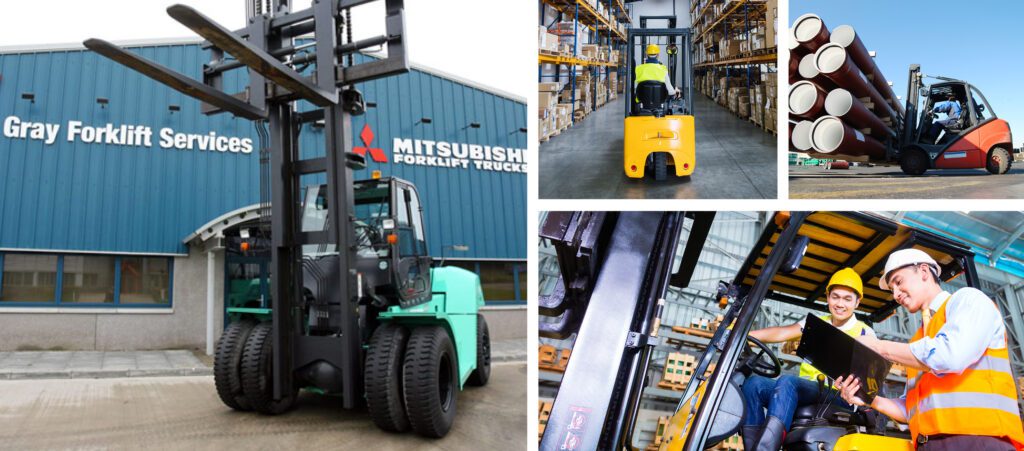 Forklift truck supplier selects ZoneSafe 
Background
Gray Forklift Services Ltd is an award-winning specialist in big trucks and material handling equipment from 1T to 60T. The company was founded in Aberdeen by Peter Gray in 1977 and remains true to its roots, offering its customers the very best value for money service.
Being the authorised distributors for various manufacturers including Mitsubishi, Konecrane, Carer, Combilift and Aisle Master for the Northeast of Scotland, Gray provide cost-effective solutions to suit any forklift and warehouse requirements including the very latest electric-powered forklifts. . Gray provides new and used truck sales and rental; servicing and spare parts; maintenance; driver training and forklift refurbishment.
The company has won multiple industry awards for its service to customers including UK Dealer of the Year and an Outstanding Achievement Award in 2011, solidifying its place as one of the leading forklift truck companies in the UK today.
The requirement
Gray Forklift Services Ltd provides a full service to its customers often working with them to customise vehicles with extras including safety systems. A forklift customer communicated concerns around site safety noting a desire to make pedestrians more visible to drivers at all times. Working in a sensitive industry where breaches could have severe consequences, safety was paramount. The customer had extremely high health and safety standards and expectations for safe operation. They wanted to ensure there was no opportunity for pedestrian/vehicle collisions onsite.
After some research into potential solutions, Gray contacted Avonwood to discuss how ZoneSafe technology could be applied.
Solution and implementation
Firstly, the ZoneSafe team worked with Gray to fully understand the requirement and identify which solution would be most effective in reducing risk. A team travelled to Aberdeen to learn first-hand how best to meet the needs of the customer.
It was clear from the brief that site safety was a key concern for this customer with no room for error. Gray personnel were immediately impressed with the hands-on approach taken by the ZoneSafe team and the flexibility and ease of use of the system.
Equipment demonstrations were carried out in a number of circumstances illustrating how ZoneSafe could easily be implemented onto customer vehicles and integrated into the workplace. Vehicles were fitted with ZoneSafe detection technology and tags issued for personnel. The detection zone is easily adjustable by distance and tags automatically deliver an audio/visual alarm if, and when, the detection zone is breached.
The Result
The solution has been extremely well received by the customer with no accidental collisions since the system was adopted. The company has also won a Gold Safety Award since its implementation.
Both Gray and the customer were immediately impressed by the ease of operation and how effective ZoneSafe is at accident prevention. Gray specifically noted the ability of ZoneSafe to find pedestrians and hazards even when blocked by objects and heavy loads on the front of vehicles. The company had previously trialled other proximity warning systems which they found to be bulky and difficult to operate and which failed to identify people and hazards when there were obstructions.
The data reporting and analysis feature have also been very helpful in identifying how and why accidents take place and enable the customer to take a more proactive approach to workplace safety.
Nick McCrea, Sales Manager at Grays said, "We have been really impressed by the ZoneSafe system and by the customer care and support provided by Avonwood.
"ZoneSafe is highly effective in highlighting hazards and preventing accidents. The system wraps around obstacles like water, finding people and hazards that are otherwise not visible. In the types of work environments our customers operate in, this level of accident prevention is vital.
"Quite simply – the system works. Installation was quick and the follow-up support has been excellent. Keeping downtime to a minimum is crucial for our customers and ZoneSafe are extremely reactive to any issues, resolving these quickly and effectively with minimum disruption.
"We will work with ZoneSafe again and proudly recommend the system to our customers."
More information about Gray Forklift Services Ltd can be found by visiting their website here. To find out more about our range of ZoneSafe solutions, click here.
Contact us today and find out how ZoneSafe can help you reduce the risk of accidents on your worksite between staff and moving vehicles.