ZoneSafe Asset Protection & Hazard Alert proximity warning system helps protect your vehicle from collisions with assets and hazards on your worksite.
ZoneSafe Tags are fitted into safety cones

Cones are easily placed around assets and hazards

Safety cones are detected up to 9 metres away

Alarm warns the driver when they get too close

Quick and easy to deploy

Virtually maintenance free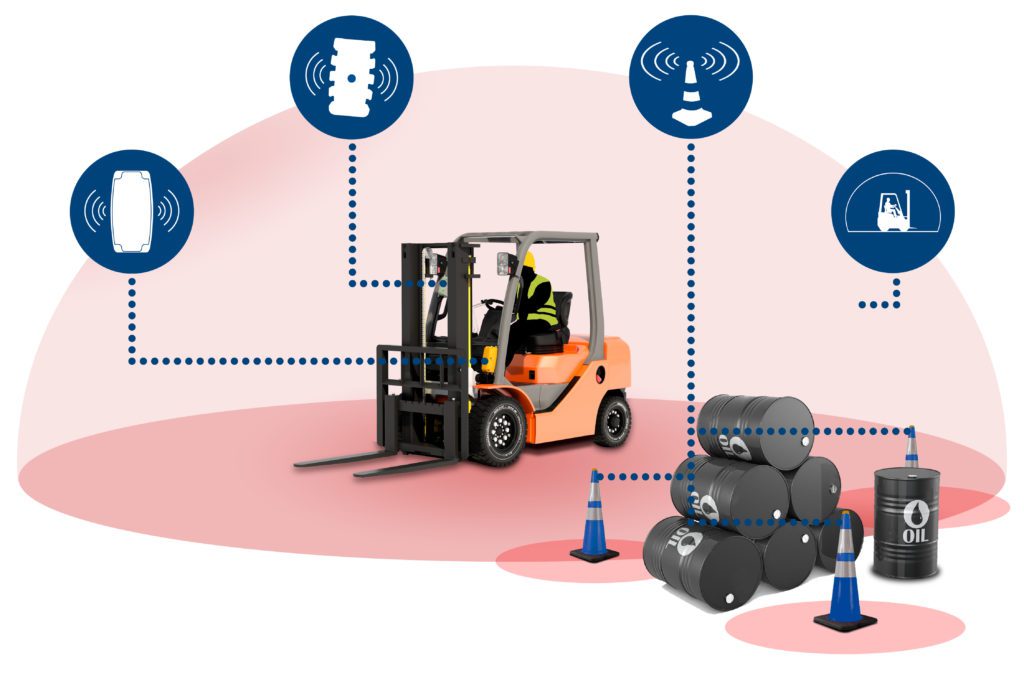 ZoneSafe System Components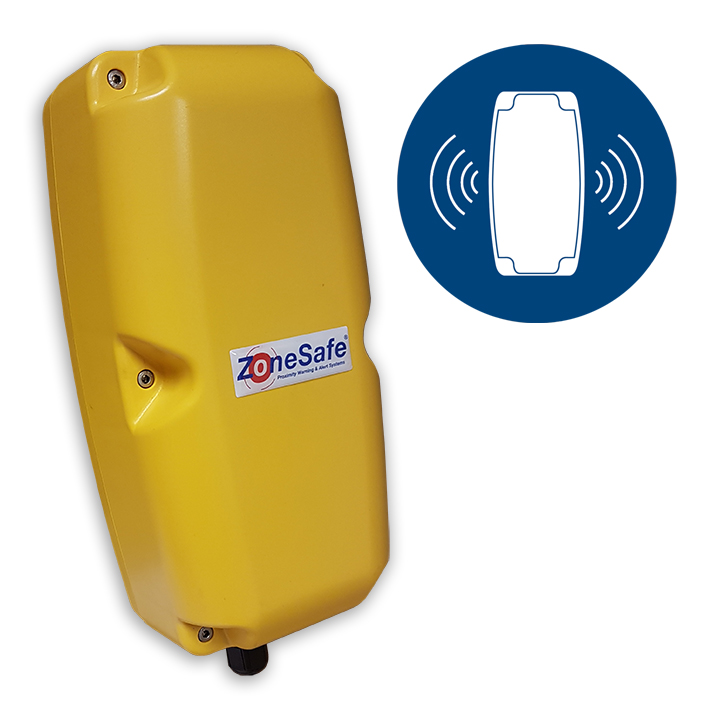 ZoneSafe Antenna
The ZoneSafe antenna is fitted to the vehicle. The antenna creates an invisible 360 degree detection zone around the vehicle and will detect ZoneSafe tags up to ten metres away.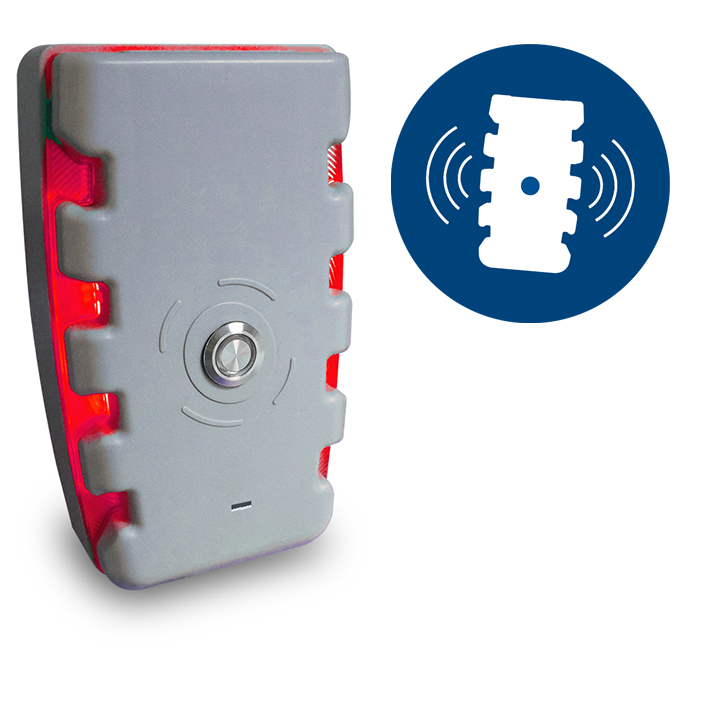 ZoneSafe Control Unit
The ZoneSafe control unit is positioned next to the driver inside the vehicle. When a tag is detected, the control unit alarms warning the driver of the vehicles close proximity to the person wearing the tag.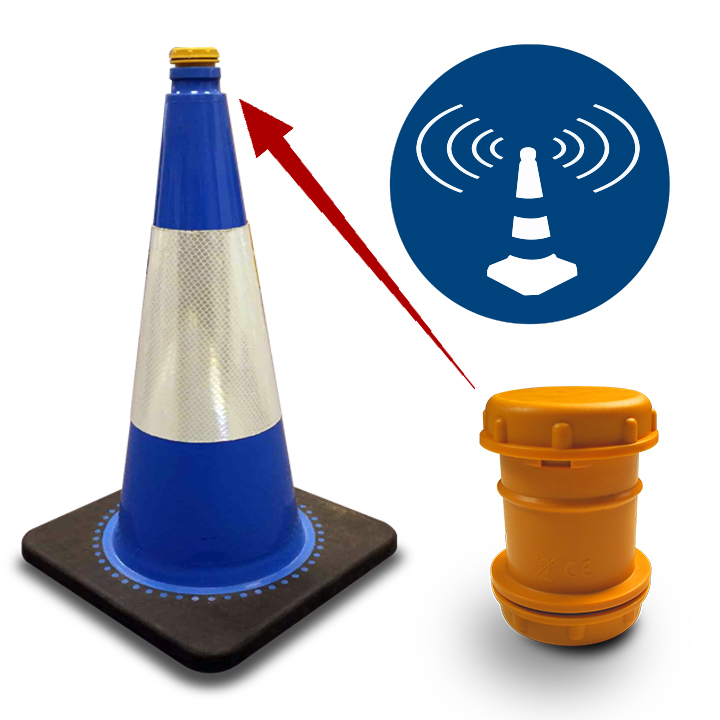 ZoneSafe Cone Tag
ZoneSafe Cone Tags are fitted into safety cones and work the same as a normal tag. When cone tags are detected by the antenna, the alarm sounds from the control unit warning of their close proximity.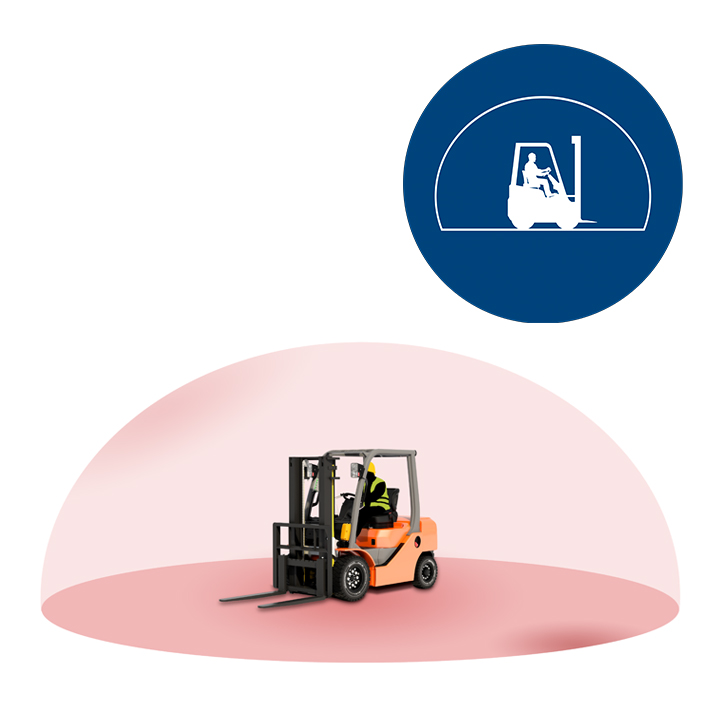 Detection Zone
The detection zone is an invisible bubble around the vehicle which detects ZoneSafe tags. The zone can be adjusted to detect tags up to 10 metres away detecting through walls, racking and around corners.
ZoneSafe Asset Protection & Hazard Alert
Create safer places to work using ZoneSafe Vehicle Asset and Hazard Alert to protect assets from vehicle damage and alerting the driver to hazards across the worksite. vehicle asset & hazard safety
Strategically place safety cones fitted with ZoneSafe tags around assets or hazards. When the vehicle gets too close to the safety cone, the ZoneSafe antenna detects the safety cone and an audio-visual alarm from the ZoneSafe control unit warns the driver. When the vehicle moves away from the safety zone, and out of range of the antenna, the alarm stops. Safety cones fitted with ZoneSafe tags can be detected up to ten metres away.
For more information about the proximity warning and alert systems increase vehicle asset & hazard safety, click on the download link below. Or read all about how Jet2.com use our system to help prevent damage to their aircraft during preflight activities and preparation for take-off. Full details can be found on our case studies page or click on the case studies link at the bottom of the page.
Download Solution
Helping you achieve zero work related injuries in your industrial working environment
Specialising in the prevention of accidents, our technology has provided industrial safety solutions for over 30 years. Working together with our customers, we create safer places to work in many different industries all over the world today, tomorrow, and for future generations. Let us solve your safety challenges.
The ZoneSafe Asset Protection system provides an additional level of protection which is virtually maintenance-free, quick and easy to deploy and suitable for any vehicle type. We can see an improvement in operator awareness and a reduction in near-miss occurrences between vehicles and aircraft. The system works particularly well and has really helped when we've had poor weather visibility."
Clients we've worked with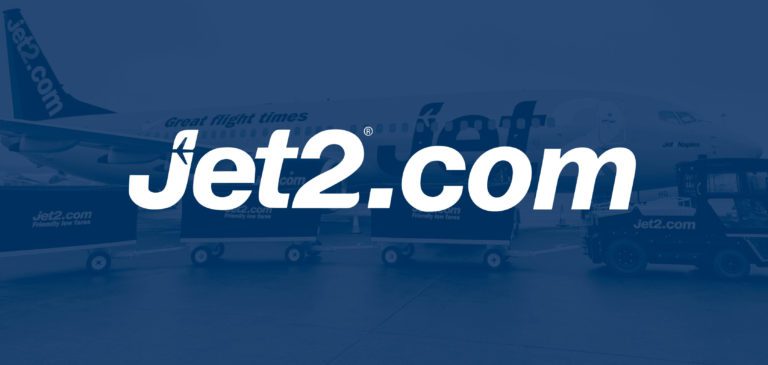 Continual growth in worldwide air travel is increasing the demand on airlines and service operators.
Our Experience Speaks for itself
years experience in providing smart detection safety solutions
We've reduced the risk of injury to more than 16000 people in the last year
We've significantly increased the safety of our customers in over 25 countries worldwide
Get in touch
ZoneSafe Head Office
Avonwood Developments Ltd,
Knoll Technology Centre,
Stapehill Road, Wimborne,
Dorset, UK, BH21 7ND
Call Us
+44 (0)1202 868000
Email Us
sales@zonesafe.com
Don't miss your chance to join the ZoneSafe Newsletter. From health and safety news, case studies, new products, even sector-specific safety solutions - make sure you leave your email address to find out everything ZoneSafe.