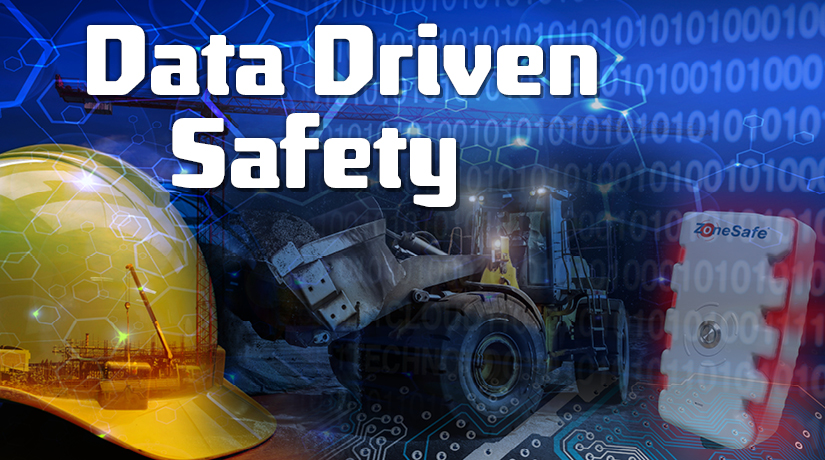 Data-Driven Safety
Our love of technology has been on the rise for some time and the events of the last few years have certainly accelerated our appetite for tech solutions to everyday problems. Across the world, people and businesses turned to technology during the pandemic to continue daily life in our new normal. The more technology we use, the more data we generate and this data tells a story of the people and events behind each interaction. Mountains of data can be overwhelming but it's what we do with it that can really make a difference.
When it comes to safety, data is invaluable. When collected and analysed correctly, event data can be used to detect threats, measure risk and drive positive behavioural change. This valuable information can be the difference between a safe working environment and an accident waiting to happen.
Data for good
In industrial workplaces, a thorough risk assessment is the first step in preventative safety – helping to identify risks before they happen. When safety incidents occur, they should be investigated and used as a learning tool to prevent future safety concerns. It's important to take this proactive approach by using risk assessment to identify possible threats and then being reactive when an event occurs by carrying out investigation, addressing the problem and adjusting procedure. Unfortunately, accidents still happen so the ability to predict risk before it takes place can have a dramatic impact on overall safety, provide efficiencies and ultimately support a safer environment.
Data capture
Data capture is the process of collecting and collating information. Safety equipment fitted with data capture technology makes it possible to efficiently gather data from safety breaches and use it to prevent future incidents. The data makes it possible to take a more proactive and preventative approach to safety and compliance issues, stopping them in their tracks, before they take place.
ZoneSafe's market-leading proximity warning systems are fitted with data capture technology that automatically records and logs real-time event data, helping to identify problematic areas and find the root cause of an incident. The ability to automatically capture this data through wearable tech is a powerful tool in helping your business to understand and prevent accidents. The system provides detailed analysis of safety breaches and a quick reference dashboard that alerts management to the top five vehicles and individuals with the highest number of detections.  This information can then be used to find the reason behind the breaches. It could be that an incident regularly occurs with a vehicle because of insufficient loading space or traffic route. It could also highlight training gaps for individuals and procedural issues that can easily be addressed.
Supporting a positive safety culture
By collecting real-time data, you can gain deep insight into the daily problems workers are facing and make changes to support a safer working environment. It may be a specific area of the workplace where regular breaches commonly occur, an issue that keeps happening at one crossing, or it may highlight a procedural issue that needs to be adjusted. By fully understanding the risks workers face and anticipating accidents before they happen, it's possible to relate to workforce concerns and use the information to make the workplace safer.
Reduced accidents result in increased morale, commitment, and trust within your business. It enables you to drive safer working practise and create positive behavioural change in your organisation. All of these measures help to support an overall positive safety culture within your business, with everyone at all levels committing to a common goal of safe operation.
Knowledge is power
By recording and analysing real events and generating data around accidents and incidents, you can ensure risks are controlled more efficiently and take steps to prevent future adverse events. The information enables you to gain detailed knowledge of the workplace and a full understanding of health and safety concerns. Knowledge allows you to not only create a full picture of how and why an incident occurred but also enables you to tailor working procedures in a way that considers known risk and reduces the opportunity for safety breaches.
ZoneSafe proximity warning systems not only protect people and assets by creating an invisible detection zone around hazards, but also use data capture technology to provide real-time tracking of incidents and identify weaknesses within your business. You can then use this data-driven safety knowledge to take a more targeted approach to safety. The system records real-time proximity breaches, evidence-based safety information and identifies high-risk areas. By combining robust safety procedures with ZoneSafe technology,  it is possible to efficiently manage risk and take a more proactive approach to accident prevention.
To discuss data-driven safety, your safety concerns, or any ZoneSafe product, contact us today using our contact form, email sales@zonesafe.com or phone +44 (0)1202 868000.