HSE Stats – Struck By Moving Vehicle Fatality Increase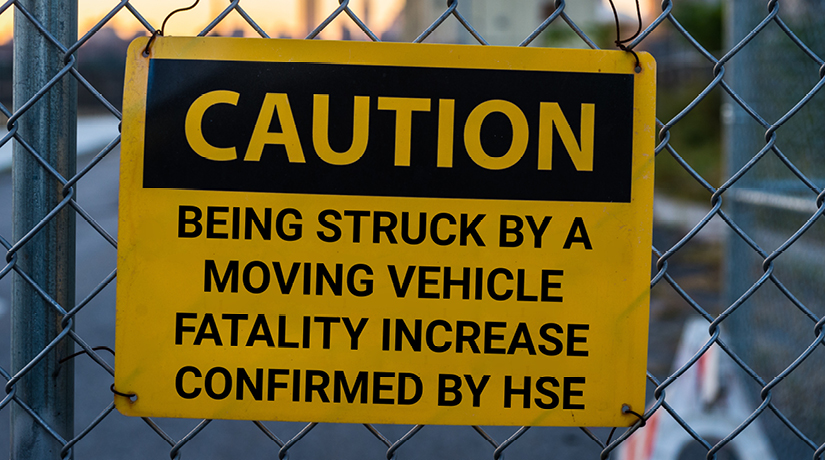 The latest provisional data from HSE (HSE Stats) relating to fatal injuries at work in 2020/21 was recently published and it makes for interesting reading.
Falls from height, being struck by a moving vehicle and struck by a moving object continue to present the biggest threat accounting for more than half of all fatalities with Construction and Agriculture, Forestry and Fishing accounting for the greatest number of fatalities in terms of sector.
Thankfully fatal injuries at work remain rare in the UK but every death is a tragedy and it is important we learn from each and every incident to ensure a safer workplace for all.
2020/21 has certainly been an exceptional year in many ways, with every sector impacted by the unfolding pandemic, associated lockdowns, closing businesses, furlough of staff and changes in consumer behaviour and demand.
Despite the changing labour market, the number of fatalities from being struck by a moving vehicle has increased this year from 20 in 2019/20 to 25 in 2020/21. When examining the figures for workplace deaths in 2020/21 it is important to consider the context of a most extraordinary situation and this obviously makes it difficult to draw like for like comparison to previous years. Like all statistical data, it is difficult to gain the full picture from numbers alone as they do not take into account all contributing factors and specific circumstances, however, the data is still valuable in identifying the most common risks.
For those businesses operating in high-risk industries, it is always worth considering the options of how to better protect your workforce and your business. The decision to invest in safety systems and technology is an investment worth making when it protects lives.
Below we have pulled out some headline figures to illustrate the most common causes of fatal injury at work. The full HSE stats are available by following this link https://www.hse.gov.uk/statistics/pdf/fatalinjuries.pdf
Headline Figures
142 workers killed in workplace accidents in 2s020/21. This is an increase from 113 in 2019/20 though the 2019/20 figure was low compared to other recent years. Even with this increase, the number of fatal injuries remains fairly level across the last five years with the average annual number of workers killed at work from 2016/17-2020/21 being 136.
Over half of fatal injuries to workers in 2020/21 were in the Agriculture, forestry and fishing and Construction sectors – this is in line with previous years.
The most common type of fatal accident to workers continues to be falls from height, being struck by a moving vehicle and being struck by a moving object – these account for over half of all fatal accidents to workers in 2020/21.
Falls from height – 35
Struck by a moving vehicle – 25
Struck by a moving object – 17
60 members of the public were killed in 2020/21 as a result of a work-related accident
The rate of fatal injury to workers in Agriculture, forestry and fishing and Waste and recycling remains considerably higher than the average across all industries: around 20 times and 17 times as high respectively
The full assessment of work-related ill-health and injuries will be detailed in the annual Health and Safety Statistics to be published on 16th December 2021.
For more information on HSE Stats, click here.
Click here to read more from ZoneSafe news.