Five Good Reasons To Use ZoneSafe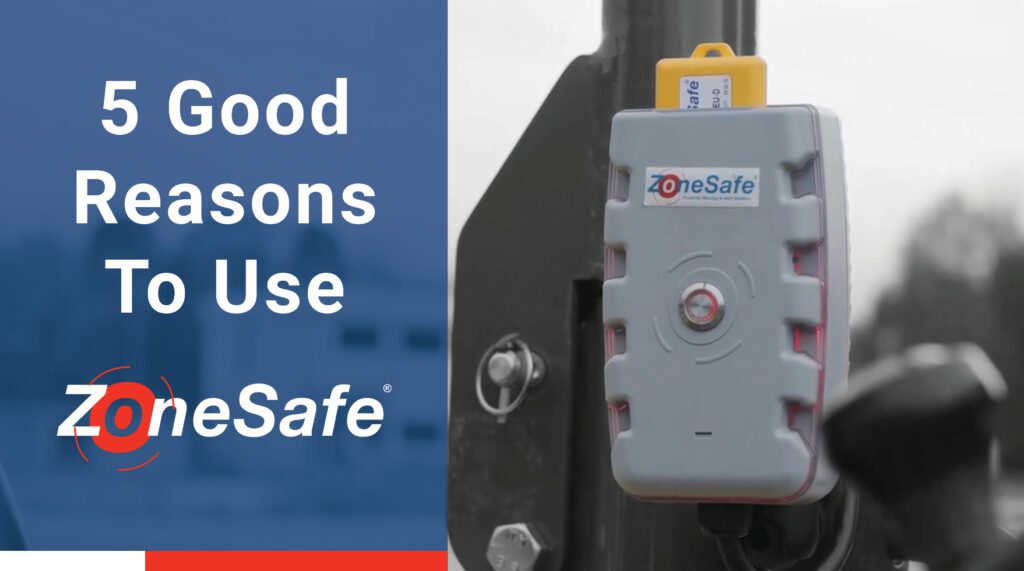 Five Good Reasons To Use ZoneSafe.
All employers want their workplaces to operate safely and efficiently. Workplace accidents can result in life-changing injuries or worse and are distressing for those injured and for the workforce as a whole. Accidents can also damage equipment, reputation, morale, and cause severe disruption to operations while costing businesses financially.
Health and safety regulations make clear the expectations of employers with regards to mandatory safety measures and training, but there are different ways to meet the minimum requirement. Collisions between vehicles and pedestrians remain one of the biggest risks of serious injury in industrial workplaces. By law, vehicles must be able to use traffic routes without causing danger to the health or safety of people working nearby but how do you ensure this? Some businesses use cones and signage while others invest in the state of the art interactive safety tech such as ZoneSafe. Workplace accidents place an enormous strain on business so it's worth considering additional systems to ensure a safer operation.
Here are five good reasons to use ZoneSafe and invest in safety:
Protect people
First and foremost, ZoneSafe systems protect people. Our proximity warning solutions make workplaces safer by raising situational awareness and alerting workers and pedestrians to potential hazards. The use of vehicles and machinery can pose a very real threat to worker safety, particularly when working in close proximity. When operating in challenging industrial environments it is imperative workers have a clear way of identifying the risks around them. Often difficult working conditions can make hazards harder to see or hear for example poor weather, low lighting, excess noise, limited visibility or when necessary PPE such as ear defenders and masks are worn. Proximity warning systems alert users to hazards they often cannot see or hear before they become a threat.
Protect assets
It's not just people that can get hurt; assets are at risk too. As the use of automation and robotics increases, it is becoming more important than ever to take measures to protect assets. Damage can be very costly and severely impact productivity when a piece of equipment is deemed beyond repair. Luckily, wearable proximity warning solutions are highly adaptable and can be fixed to almost anything. ZoneSafe technology has been applied to people, machinery, vehicles, walls, robots, cones and even shoes! It is worth considering even if the requirement seems like a highly unusual request.
Instil a strong safety culture
A strong safety culture is so important in high-risk industries. By clearly communicating a positive approach to health and safety in the workplace, you build a strong culture within the business where people trust the company to protect their wellbeing. By investing in proven technology to keep people safe, you send the message that people are important and their safety is the utmost priority within the business.
Save money
Often businesses don't invest in safety technology because they think it will cost too much but in reality, the investment can actually save money in the long term. When you reduce accidental harm, you reduce the cost of repairing the damage. HSE estimates the cost of workplace injury at £5.6 billion in the UK. By investing in technology to make the workplace safer, you reduce the risk of injury which means less absenteeism, boosted morale, increased productivity and cost-saving in the long run.
Use real data
ZoneSafe offers more than just a safety warning system. Using data capture technology, the system collects and collates helpful data allowing you to take a more proactive approach to safety within the work environment. By reviewing real data and evidence of workplace interactions, you can better identify threats to safety and specific high-risk areas or spaces with increased risk of collision. Training can then be targeted to meet specific concerns, raising user awareness of potential hazards. This approach can be used to drive positive behavioural change within the business where everyone can learn from factual data around potential risks at work.
Don't miss your chance to join the ZoneSafe Newsletter. From health and safety news, case studies, new products, even sector-specific safety solutions - make sure you leave your email address to find out everything ZoneSafe.