>
>
Forklift health and safety – 5 Common mistakes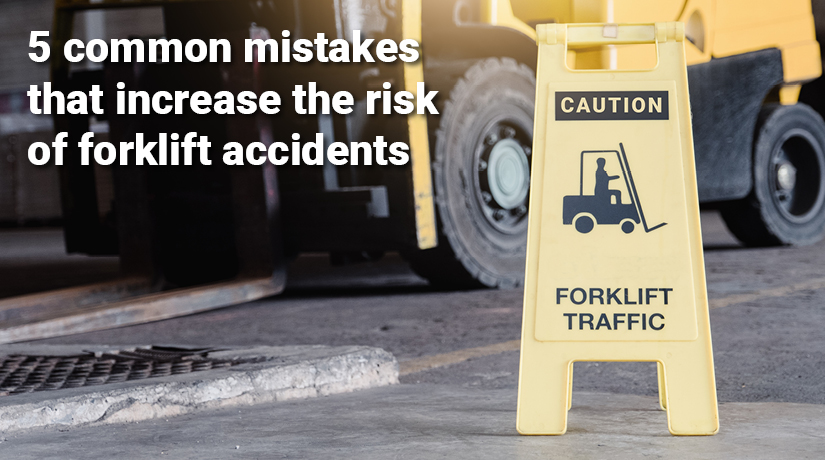 Forklift health and safety – 5 Common mistakes
Forklifts are commonly used material handling equipment – they offer great manoeuvrability in difficult and hard-to-reach places and can easily handle heavy loads. But accidents are far from unusual and with forklifts being involved in around a quarter of all workplace transport incidents, they are considered the most dangerous of all industrial vehicles. With many different types of forklift safety systems available, it's never been so important to choose the right solution to suit your requirements, but what are the five common mistakes in forklift safety?
The most common incidents often involve collisions with pedestrians, tipping over and insufficient operator training. With the average forklift weighing more than at least two cars, it's easy to see how forklift accidents can cause serious and even fatal injuries.
Forklift safety systems
At ZoneSafe, we work with customers across a range of industrial sectors where forklifts are commonly used so we are all too aware of the risks involved and the challenges businesses face. Our portfolio of proximity warning systems can really make the difference when it comes to safe forklift use.
We've learned a lot from our customer's experiences so we've compiled our list of the most common mistakes we see that often contribute to forklift accidents.
If you want to discuss your concerns and take steps to really enhance your worksite safety, get in touch.
Five Common mistakes in forklift safety
1. Insufficient driver training. It's vital anyone who operates a forklift is trained and approved to do so. Training should always include practical exercises so that operators gain hands-on knowledge of manoeuvrability and understand how to safely carry cargo. Tipping over is a common risk so operators must learn how to load and unload safely without toppling.
Forklift training isn't just a nice to have – it's a legal requirement under The Provision and Use of Work Equipment Regulations 1998 (PUWER). As an employer, you're obligated to ensure that all people who use forklifts within your business have received training on safe operation, risks and precautions. The Approved Code of Practice (L117) from HSE provides detailed information on training requirements and regulations.
Although there's no legal requirement around how often refresher training is carried out, regular scheduled training is recommended. Refresher training addresses knowledge gaps and raises awareness to prevent long-term bad habits from forming.
You can find more information about forklift driver training in the Forklift Driver Training – Section 2(2)c) of the Health & Safety at Work etc. Act 1974
2. Complacency. Employee complacency poses a serious risk to workplace safety. When we work on autopilot, we lose our awareness of the hazards around us and this increases the chance of accidents. 
Even if you're very familiar with forklift use and have been operating one for years, it's important to remember basic safe use guidelines including:
Conducting a walkaround check before use
Always wearing a seatbelt when fitted
Maintaining a safe driving speed that's suited to the location and load and always looking in the direction of travel
Ensuring forks are raised and clear of the ground when travelling
Maintaining good situational awareness of obstructions, crossings and pedestrians
Avoiding sudden movements or braking
Slowing at junctions and entryways and using the horn to alert others
Applying the parking brake when leaving the truck
ZoneSafe proximity warning system raises worker awareness by alerting users in advance of collision. The interactive system is highly effective in combating complacency.
3. Overloading. It can be tempting to overload the forklift in order to reduce the number of trips to and fro, but overloading can seriously impact the driver's visibility and affect control of the vehicle.
Awkward and hanging loads are the most dangerous so load onto a pallet if possible and make multiple trips ensuring cargo is safely placed and stacked before going for the next load. You should always make sure the load is evenly distributed to avoid risk of tipping over – Around 42% of forklift fatalities are attributed to being crushed by a vehicle toppling over.
4. Poor maintenance. Like all machinery, forklifts suffer wear and tear and general signs of ageing. Under Thorough Examination requirements, forklifts must be regularly checked for general condition, wear and tear and key components including brakes, steering, and lifting mechanisms must be tested.
It's important that daily checks are completed before each use. Drivers should always check overhead and rear-view mirrors and check alarms and flashing signals are working. It's very important to check the brakes and tyres before use as problems here can lead to serious accidents. The forklift should also be checked for fuel leaks, fluid levels and for damage to the forks. Regular maintenance not only helps to prevent accidents from happening but also prolongs the life of your forklift and reduces downtime.
5. Poor site design. Forklifts are widely used in warehouses, factories, building yards and other areas where narrow aisles and sharp turns are commonplace. Their design makes them ideal for handling heavy loads often at height in constrained spaces but often the layout of the site and the activity within can increase the risk of collisions and overturning. Blind spots are a common problem where space is limited – ZoneSafe's Gobo projector addresses this problem by projecting warnings onto the floor to prevent collisions in high-traffic areas and blind spots.
To minimise risk, think about the layout of the site and what measures can be taken to make forklift operations safer. Making sure highly visible signage is in place, lighting, alarms and gates can make a real difference.
ZoneSafe forklift safety systems use proximity warning technology to alert users and pedestrians when in close proximity by creating a detection zone around vehicles. When the detection zone is breached, a visual/audible alarm alerts users to hazards. It's an extremely useful and effective tool in keeping vehicles and pedestrians apart in confined spaces where total segregation is not possible.
ZoneSafe can't always minimise the five common mistakes in forklift safety as discussed above. However, the safety solution WILL significantly minimise the risk of collision between forklifts and other vehicles and pedestrians. The clever system has the added option of controlling vehicle speed (where available) and automatically interacting with gates, signage and traffic control systems.
Call Us: +44 (0)1202 868000
Email Us: sales@zonesafe.com